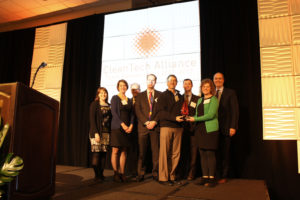 University of Washington
Consistently ranked as a top global university for innovation, the University of Washington supports the region's cleantech talent pipeline, R&D base, infrastructure and connectivity to the world. Key programs that support this work are the Environmental Innovation Challenge, Clean Energy Institute, and CoMotion. In addition, the University's world class faculty and facilities attract federal R&D funding for technology commercialization to the region.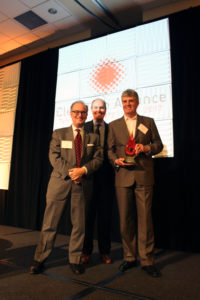 Dave Curry of Demand Energy
Dave Curry has been a leader in the Northwest cleantech sector for years. His entrepreneurial efforts have created jobs and brought focus, capital and growth to the sector. Curry founded Demand Energy in 2008, which was one of the first energy storage companies both in the region and in the energy storage industry at large. The company was purchased recently by Enel, which will make its technologies available around the world.
2017 CleanTech Vision Award Winners
The CleanTech Vision Awards honor an organization and an individual for championing innovation that will forever change the clean technology sector. CleanTech Alliance debuted the award in 2017, which was sponsored by Seattle City Light. The winners were:
Impact Bioenergy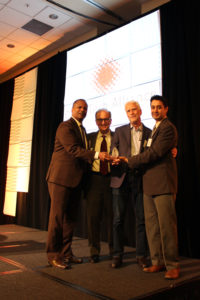 Impact Bioenergy's distributed bioenergy solutions help communities and companies dealing with food generate energy from organic waste streams. The company's prefabricated bioenergy systems and technologies allow for onsite bioenergy food waste diversion, thus substantially reducing costs and generating a faster ROI than wind or solar.
Virginia Emery of Beta Hatch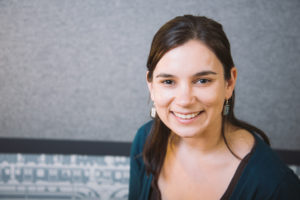 Virginia Emery is single-handedly building an insect-as-protein industry in the Northwest region. Through her startup Beta Hatch, Virginia commercialized insects as high-protein animal food and soil products that are efficient enough to change our food systems. Insects are one of the greatest untapped resources for building more clean and robust food systems, and Virginia is one of few who have developed a viable option to make use of that resource.
2017 Chairman's Award
The Chairman's Award, debuted in 2017, is a special presentation selected by past and present CleanTech Alliance Board Chairs to honor an organization or individual for their contribution to the CleanTech Alliance and its mission. Boeing sponsored the 2017 award, which went to: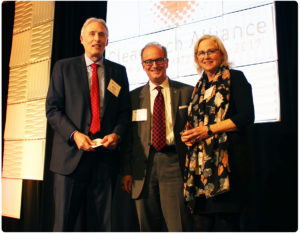 Maggie Brown of APCO Worldwide
A panel of past and present CleanTech Alliance Board Chairs selected Brown for her ongoing commitment and impact to both the CleanTech Alliance and the broader industry. Maggie is executive director and managing director of APCO Worldwide's Seattle office where she focuses on supporting cleantech companies with issue management, corporate positioning and crisis and litigation communication programs. She has helped numerous clients manage issues related to energy, environment and sustainability through the development of effective communication strategies.