Clean energy, clean water, clean transportation, and clean materials are the lynchpins of a sustainable society.
Clean Materials is the next frontier of climate solutions.
The new "Clean Materials" paradigm offers a whole new approach to waste and recycling. Instead of managing materials only at end-of-life, we can rethink entire supply chains to dramatically reduce human health and environmental impacts, and generate more economic value, across the life cycle of materials and products. Clean materials companies reimagine product design, manufacturing processes, supply chains and reuse-repair-recycling systems to prevent waste, slash unwanted impacts, and create good jobs.
Clean Materials – Micro Businesses, Macro Opportunity: Building Community, Prosperity, and Planet from the Ground Up​
When: Wednesday, June 16th, 9:30 – 11:00 AM PT
Where: Online
Join us for the second event in our Clean Materials series. This discussion will examine the role our smallest businesses can play in the emerging clean materials economy. Micro businesses can help drive the transition to a clean economy while expanding equitable opportunity in communities large and small – if given the chance. Join insightful leaders in exploring how this often-overlooked part of our economy can access opportunity and accelerate the promise of clean materials: good jobs, healthier communities, a more sustainable planet and broadly shared prosperity.
Confirmed Speakers:
Lisa Smith, Executive Director, Washington State Microenterprise Association (WSMA)
Yumiko Damashek, Board of Directors, Refugee Artisan Initiative
Ted Sturdevant, Director of Strategic Initiatives, Center for Sustainable Infrastructure (CSI)
Rachelle Ames, Senior Director, Commercialization & Outreach, CleanTech Alliance
Jesse Foss, Foss Stump Grinding, Grays Harbor County
Mona Das, Washington State Senator
Kathlyn Kinney, Spokane Independent Metro Business Alliance (SIMBA)
Moshi Igun, Board Member, Zero Waste Washington
Seattle Good Business Network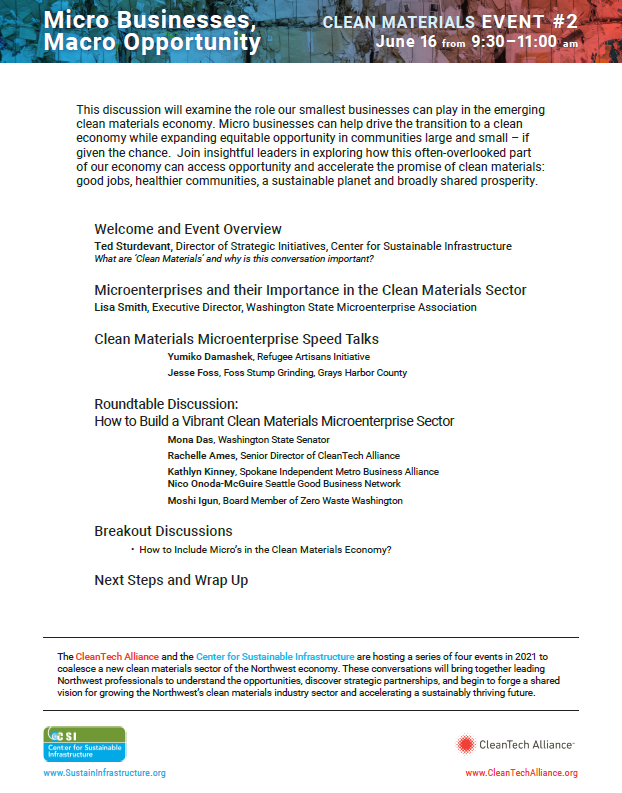 Clean Materials – Event #3​
When: Tuesday, Sept. 21st, from 10:00 – 11:45 AM Pacific
Where: Online
Clean Materials – Event #4​
When: Tuesday, Oct. 19th, from 10:00 – 11:45 AM Pacific
Where: Online
Clean Materials – Event #5​
When: Tuesday, Nov. 16th
Where: In-person (pending COVID restrictions)
Past Event:
Clean Materials – An Emerging Economic Engine
When: Tuesday, May 25, 2021, 10:00 – 11:45 AM Pacific
Where: Online
The first event in our Clean Materials series, this event will examine the potential benefits that a growing clean materials industry can have in the innovative Northwest economy. We will discuss clean materials as as an emerging economic engine, and we will talk to industry leaders and innovators on the cutting-edge of the sector! Plus, plenty of networking time so you can make connections that make the difference!
Event Partner: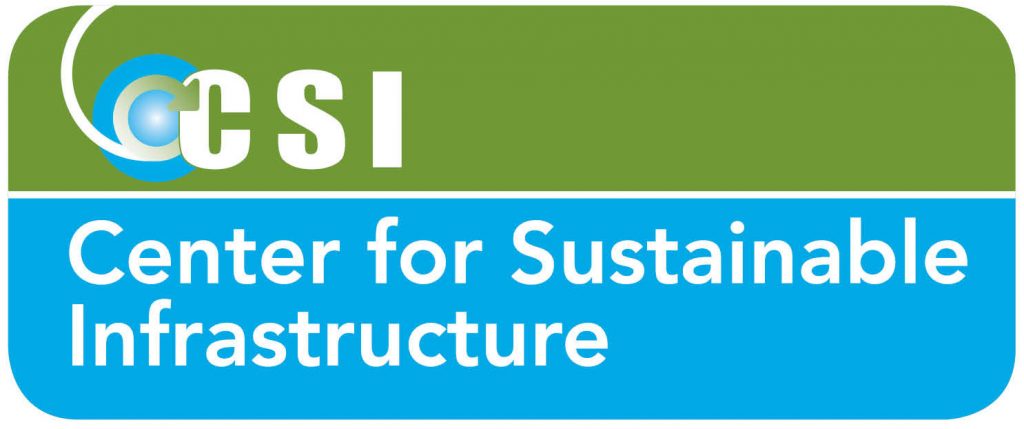 Event Sponsors: