The following awards recognize the achievements happening in the clean energy and cleantech sector thanks to individuals, new companies, established companies, and important organizations. Nominations are open to all anyone in the clean energy or cleantech sector, and a panel of judges selects the finalists and winners.
2019 Energy Leadership Achievement Award Finalists
The Energy Leadership Achievement Awards spotlights individuals and organizations that are making significant contributions to the fields of energy policy, innovation and business. The awards are announced at the Energy Leadership Summit held in the fall. This year the Energy Leadership Summit will be held on November 19, 2019.
Organizations (alphabetical)
Carbon Washington
Puget Sound Energy
Washington State Dept of Commerce – Clean Energy Fund
Western Washington University – Institute for Energy Studies
Individuals (alphabetical by last name)
Bonnie Frye Hemphill, A&R Solar – Policy & Partnerships Director
Lauren McCloy, Office of Governor Jay Inslee – Senior Policy Advisor – Energy
Dr. Michael Wolcott, Washington State University – Regent's Professor
Dr. Malin Young, Pacific Northwest National Laboratory – Deputy Director for Science and Technology
Thank you to our awards sponsor:

2018 Energy Leadership Achievement Awards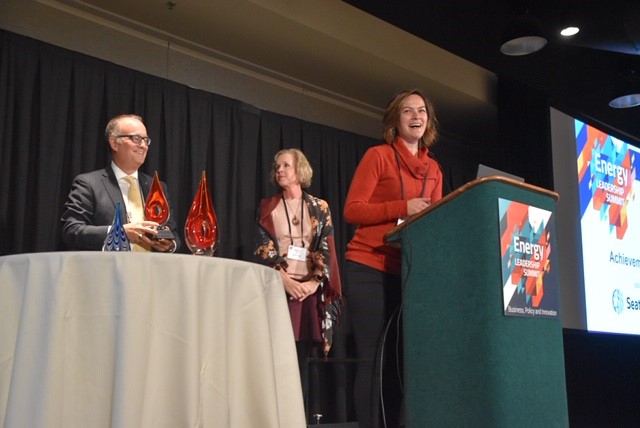 Spark Northwest has continued to make impressive strides in advancing their vision of a Pacific Northwest in which every individual, regardless of income or race, has access to energy that is clean, affordable and local. They've had a direct impact on the region's energy economy by working with over 135 communities across WA & OR to create green jobs and develop community-scale projects.  Our other nominees, Boeing, the Alaska Native Tribal Health Consortium, and NW Energy Coalition are no less innovative or successful.  We look forward to seeing how all the nominees will continue to demonstrate leadership in green sectors in the coming year.
---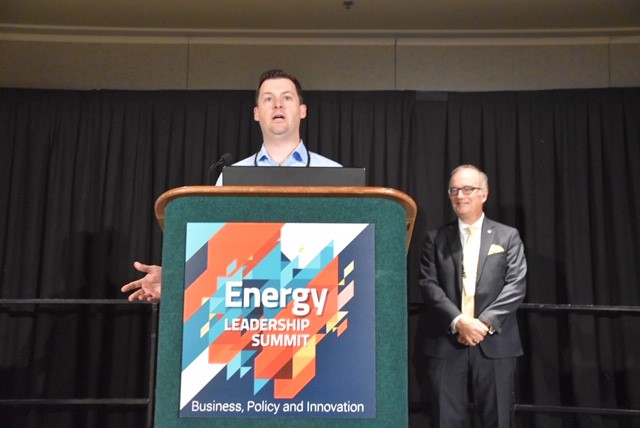 Dr. Michael Pomfret of the University of Washington and Washington Clean Energy Testbeds took home the individual award for his work mentoring the next generation of innovators that are already leading us to our greener tomorrow. As managing director of the Washington Clean Energy Testbeds, Mike has overseen the development of this open-access facility for prototyping, testing, and validating solar, battery, and system software/ hardware integration technologies, from construction, through opening in 2017, to tremendous first-year growth. In just under two years in operation, Mike has not only established a state-of-the art facility with amazing instrumentation and outstanding staff scientists to help users de-risk a cleantech concept, he has created a supportive home for cleantech innovators to grow and attract investors to our region. Other nominees included Membrion's John Plaza, who has a track record of launching highly successful startups from the ground up, obtaining funding from leading private equity and venture capital firms, successfully growing operations, and structuring mission-critical partnerships and alliances. Cheryl Schell from Seattle's Consulate General of Canada was also nominated for a more than 23-year commitment to green trade. She established B2B Commerce Connections to foster two-way trade between our region and Canada, and joined the Canadian Trade Commissioner Service in April 2014 taking over the sustainable technologies portfolio covering Alaska, Idaho, Washington, and Oregon.
Chairman's Award
The Chairman's Award, debuted in 2017, is a special presentation selected by past and present CleanTech Alliance Board Chairs to honor an organization or individual for their contribution to the CleanTech Alliance and its mission.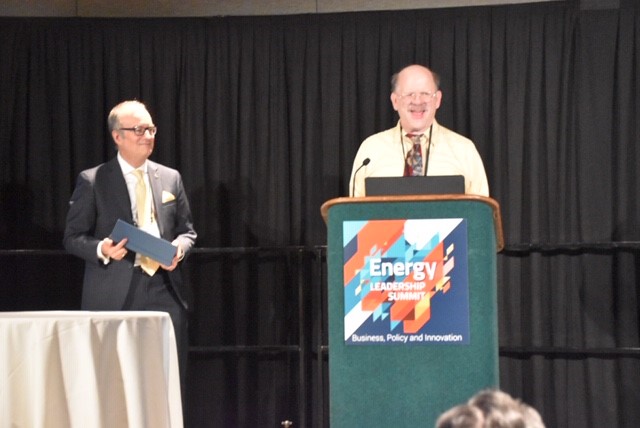 Tony Usibelli of the Washington State Department of Commerce was honored with the CleanTech Alliance Chairs' Award for his 33 years of service and leadership in Washington, striving to help us all reach that cleaner future. For years, Tony has worked tirelessly on an impressive list of green energy projects including the Western Climate Initiative, the Pacific Coast Collaborative, the Western Interstate Energy Board, National Emergency & Climate policy and a slew of both scientifically and politically sound legislation and ballot measures. Rarely has Tony Usibelli taken the spotlight, so the Energy Leadership Achievement awards were the perfect opportunity to spotlight just afew of his good deeds. Thank you, Tony, you earned it.
---
Past Award Winners
2017 CleanTech Achievement Award Winners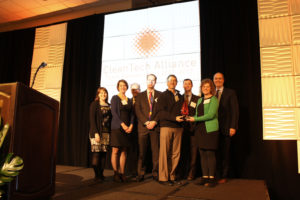 University of Washington | CleanTech Achievement Award | Organization
Consistently ranked as a top global university for innovation, the University of Washington supports the region's cleantech talent pipeline, R&D base, infrastructure and connectivity to the world. Key programs that support this work are the Environmental Innovation Challenge, Clean Energy Institute, and CoMotion. In addition, the University's world class faculty and facilities attract federal R&D funding for technology commercialization to the region.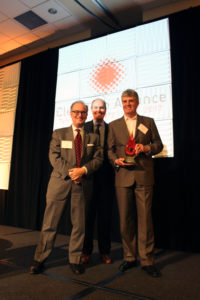 Dave Curry of Demand Energy | CleanTech Achievement Award | Individual
Dave Curry has been a leader in the Northwest cleantech sector for years. His entrepreneurial efforts have created jobs and brought focus, capital and growth to the sector. Curry founded Demand Energy in 2008, which was one of the first energy storage companies both in the region and in the energy storage industry at large. The company was purchased recently by Enel, which will make its technologies available around the world.
2017 CleanTech Vision Award Winners
The CleanTech Vision Awards honor an organization and an individual for championing innovation that will forever change the clean technology sector. CleanTech Alliance debuted the award in 2017, which was sponsored by Seattle City Light. The winners were:
Impact Bioenergy | CleanTech Vision Award | Organization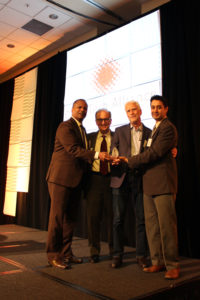 Impact Bioenergy's distributed bioenergy solutions help communities and companies dealing with food generate energy from organic waste streams. The company's prefabricated bioenergy systems and technologies allow for onsite bioenergy food waste diversion, thus substantially reducing costs and generating a faster ROI than wind or solar.
Virginia Emery of Beta Hatch | CleanTech Vision Award | Individual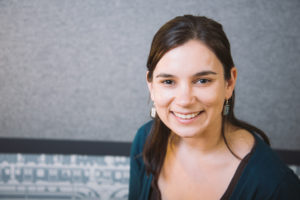 Virginia Emery is single-handedly building an insect-as-protein industry in the Northwest region. Through her startup Beta Hatch, Virginia commercialized insects as high-protein animal food and soil products that are efficient enough to change our food systems. Insects are one of the greatest untapped resources for building more clean and robust food systems, and Virginia is one of few who have developed a viable option to make use of that resource.
2017 Chairman's Award
The Chairman's Award, debuted in 2017, is a special presentation selected by past and present CleanTech Alliance Board Chairs to honor an organization or individual for their contribution to the CleanTech Alliance and its mission. Boeing sponsored the 2017 award, which went to: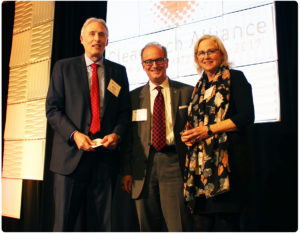 Maggie Brown of APCO Worldwide | Chairman's Award
A panel of past and present CleanTech Alliance Board Chairs selected Brown for her ongoing commitment and impact to both the CleanTech Alliance and the broader industry. Maggie is executive director and managing director of APCO Worldwide's Seattle office where she focuses on supporting cleantech companies with issue management, corporate positioning and crisis and litigation communication programs. She has helped numerous clients manage issues related to energy, environment and sustainability through the development of effective communication strategies.
2016 CleanTech Achievement Award Winner
McKinstry continuously looks for new ways to innovate the clean technology landscape. In the past 50 years, the company has transformed how buildings are designed, built, operated and maintained for optimal energy efficiency and occupant health. One example is the recent partnership with Clise Properties and Amazon, the nation's largest-scale heat recovery systems to cross property lines. This partnership, dubbed the "EcoDistrict," transfers data center waste heat to offset 75 percent of the heat needed by Amazon's new corporate headquarters across the street.
2015 CleanTech Achievement Award Winner
Washington State University boasts 16 research centers and labs leading in aviation biofuels, smart grid, advanced composite and bio-based materials, anaerobic digestion, air and water quality, sustainability building design and organic and precision agriculture. This diverse portfolio has earned WSU recognition as a national top-10 cleantech university.
https://www.youtube.com/watch?v=Safbdqm-qxY
2014 CleanTech Achievement Award Winner
Element 8 was the first angel investment group in North America to focus exclusively on cleantech, and continues to be a leading funder of early stage companies across the continent. Element 8's angel members are committed to a prosperous and sustainable future through clean technologies.Element 8 partners with outstanding entrepreneurs to build successful companies, and leverages its members' collective expertise to accelerate the transition to a cleaner future and better world. As of the award date, members had invested more than $18.5 million in 50 companies in across the globe.