The following awards recognize the achievements happening in the clean energy and cleantech sector thanks to individuals, new companies, established companies, and important organizations. Nominations are open to all anyone in the clean energy or cleantech sector, and a panel of judges selects the finalists and winners.
2020 Energy Leadership Achievement Award Winners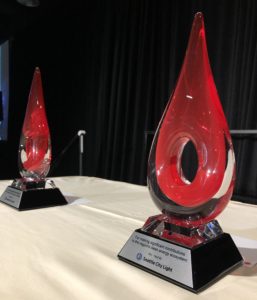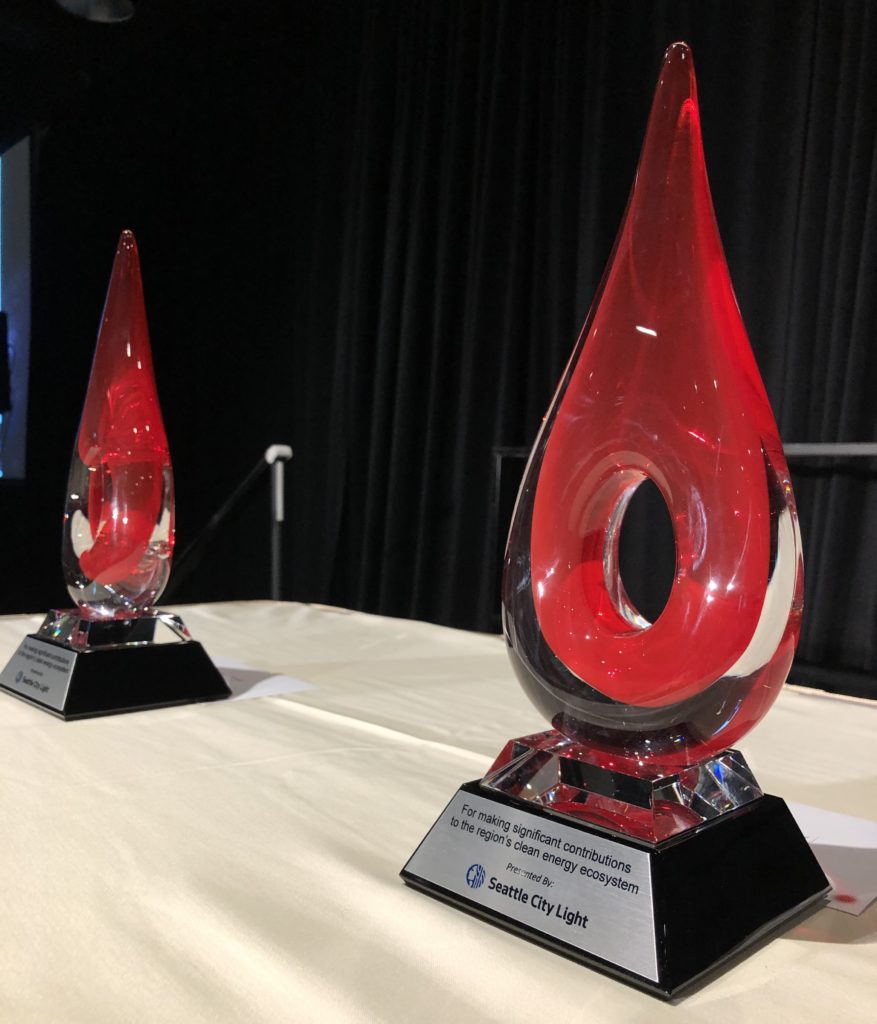 The Energy Leadership Achievement Awards spotlights individuals and organizations that are making significant contributions to the fields of energy policy, innovation and business. The awards are announced at the Energy Leadership Summit held in the fall. This year the Energy Leadership Summit was held on November 12, 2020.
Energy JEDI (Justice, Equity, Diversity & Inclusion) Award
The Energy JEDI Award is presented to an individual that has done outstanding work to make the energy sector more equitable, supportive of climate justice and diversity, and foster an inclusive ecosystem.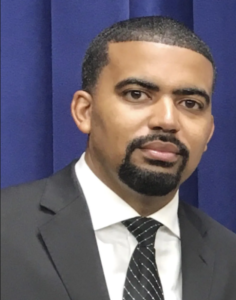 The awardee this year is Gilbert Campbell, Co-Founder and Managing Partner of Volt Energy. Volt Energy is a national minority-owned renewable energy firm that finances and develops solar projects, electric-vehicle charging stations and energy storage solutions for commercial, government, educational and non-profit institutions. Volt Energy's mission is to uplift communities through the opportunities and benefits provided by clean technology. For an industry that is progressive-minded, only 7% of solar workers are black. By his work in project development and his prominent involvement as a board member of the Solar Industry Association, Mr. Campbell is actively working to not only raise awareness, but remedy the problem. Under his leadership, Volt has created a novel energy procurement process. Buyers can now commit to clean power that is certifiably compliant with their diversity procurement criteria.
Other nominees included Dr. Mark Peters, Laboratory Director of Idaho National Laboratory and Edwin Wanji, Co-Founder and Principal at Sphere Solar.
Organization Achievement Award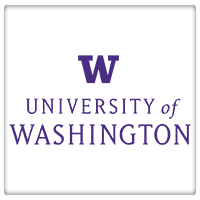 This award was given to the University of Washington CLEAN Steering Committee and Jack Faris accepted the award on behalf of the committee. The UW CLEAN Steering Committee conceived and worked to implement critical energy initiatives at the University of Washington, State of Washington, and the nation. Notably, one outcome, the Clean Energy Institute (CEI) has become an internationally recognized force, effectively leveraging State of Washington research funding over the past seven years. The vision of the UW CLEAN Steering Committee has influenced state and national policies including the Washington Clean Energy Fund and activities such as the Alaska Airlines Environmental Innovation Challenge.
Other nominees included: The Emerald Initiative, Pacific Northwest National Laboratory, and Sustainable Living Innovations.
Individual Achievement Award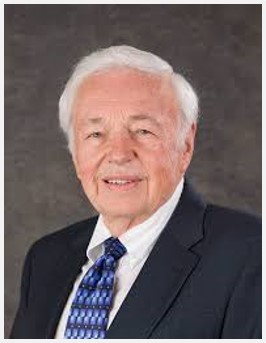 This was awarded to Sid Morrison, Board Chair, Energy Northwest. Mr. Morrison has served as the chair of the Executive Board since 2006. Mr. Morrison is a former legislator having served in the Washington State House of Representatives, Washington State Senate and the US House of Representatives. He was appointed as secretary of transportation by the Washington Transportation Commission in 1993 where he maintained close working relationships with the Legislature and Congress. He retired from state service in 2001.
Mr. Morrison has an exemplary life-long record of public service and volunteerism in support of local, regional, state and national betterment. During his tenure, Energy Northwest's has:
completed and expanded the Nine Canyon Wind Project,
achieved a 20-year license renewal on the Columbia Generating Station,
achieved agency-wide safety records,
collaborated to promote a commercial, small modular reactor project in the western US,
led the installation of nine electric vehicle charging stations along highway corridors
and received a Clean Energy Fund grant to install the Horn Rapids Solar, Storage and Training project.
Mr. Morrison remains a strong advocate for the mitigation of climate change impacts through a diverse, regional power mix that includes current and new clean energy resources.
Other nominees included: Dr. Srinivas Katipamula, Mechanical Engineer at Pacific Northwest National Laboratory and Gary Ivory, General Manager at Douglas County PUD #1.
Thank you to our awards sponsor:

---
Past Award Winners
2019 Energy Leadership Achievement Awards

The Washington State Dept of Commerce – Clean Energy Fund funds the development and deployment of clean energy technology. Since it's establishment by Governor Inslee in 2013, the Clean Energy Fund has poured over $170M into research, development, demonstration and deployment of clean energy technologies across the state of Washington. Because of the CEF, there are loan programs available to increase energy efficiency and grow clean tech businesses. And the Grid Modernization program has helped install the newest technology on our grid, while simultaneously allowing utilities across the state to learn new operational techniques to allow our electricity system to achieve 100% renewable by 2045.
The other finalists were: Carbon Washington, Puget Sound Energy – Green Direct program and Western Washington University – Institute for Energy Studies.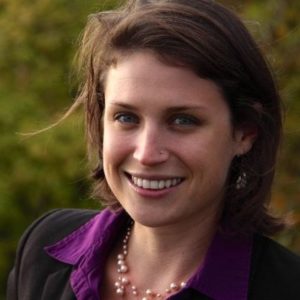 Bonnie Frye Hemphill, A&R Solar – Policy & Partnerships Director. Bonnie Frye Hemphill has a decade of experience making clean energy real and accessible for all. Bonnie has led the solar industry to significant policy wins for clean energy in Washington's 2018-2019 legislative session leading to Governor Inslee's signature on multiple new laws. Leading the Solar Installers of Washington's trade association, Bonnie has built alliances with utility, industry, and legislative leaders to make the most significant progress that the WA solar industry has ever enjoyed.
The other finalists were: Lauren McCloy, Senior Policy Advisor to Governor Jay Inslee; Dr. Michael Wolcott, Regents Professor and LP Distinguished Professor at Washington State University; and Dr. Malin Young, Deputy Director for Science and Technology at Pacific Northwest National Laboratory.
2019 Chairman's Award
The Chairman's Award is a special presentation selected by past and present CleanTech Alliance Board Chairs to honor an organization or individual for their contribution to the CleanTech Alliance and its mission.
J. Thomas Ranken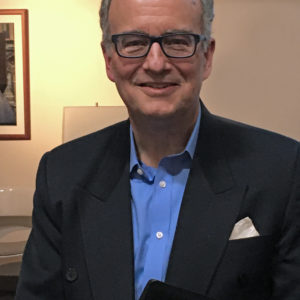 Tom Ranken has served as the President and CEO of the CleanTech Alliance for the past ten years. He recently announced that he will be retiring in 2020 after a successor is found. Tom guided the Alliance through the great recession and built the membership up from 35 at its inception to over 1,000 at this writing. Through his leadership, the CleanTech Alliance has become the go-to convener of cleantech in the region. Previously, as an entrepreneur, Tom was CEO of VizX Labs and Axio Research Corporation. Active in the community and in professional organizations, Tom spent 14 years as a Trustee of Harborview Medical Center and served two-terms as President of the Board. On the weekends, he plays lead guitar in a rock 'n' roll band, brews beer, and is a former Scoutmaster of Boy Scout Troop 80.
2018 Energy Leadership Achievement Awards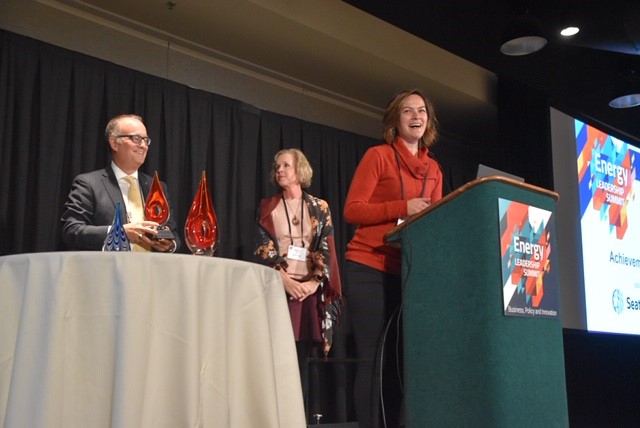 Spark Northwest has continued to make impressive strides in advancing their vision of a Pacific Northwest in which every individual, regardless of income or race, has access to energy that is clean, affordable and local. They've had a direct impact on the region's energy economy by working with over 135 communities across WA & OR to create green jobs and develop community-scale projects.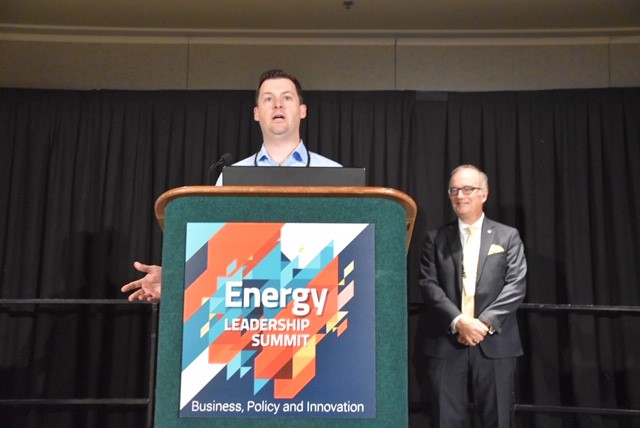 Dr. Michael Pomfret of the University of Washington and Washington Clean Energy Testbeds took home the individual award for his work mentoring the next generation of innovators that are already leading us to our greener tomorrow. As managing director of the Washington Clean Energy Testbeds, Mike has overseen the development of this open-access facility for prototyping, testing, and validating solar, battery, and system software/ hardware integration technologies, from construction, through opening in 2017, to tremendous first-year growth. In just under two years in operation, Mike has not only established a state-of-the art facility with amazing instrumentation and outstanding staff scientists to help users de-risk a cleantech concept, he has created a supportive home for cleantech innovators to grow and attract investors to our region.
Chairman's Award
The Chairman's Award, debuted in 2017, is a special presentation selected by past and present CleanTech Alliance Board Chairs to honor an organization or individual for their contribution to the CleanTech Alliance and its mission.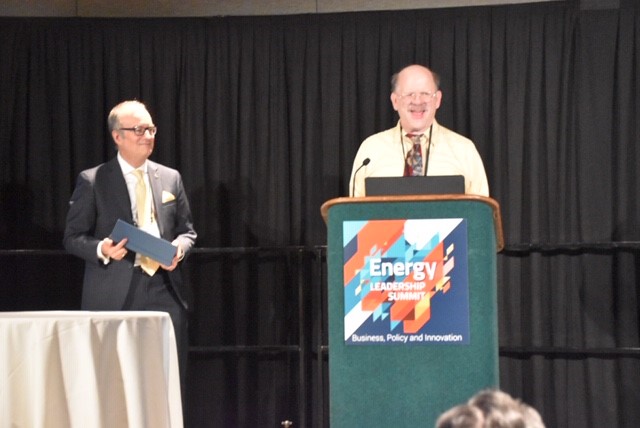 Tony Usibelli of the Washington State Department of Commerce was honored with the CleanTech Alliance Chairs' Award for his 33 years of service and leadership in Washington, striving to help us all reach that cleaner future. For years, Tony has worked tirelessly on an impressive list of green energy projects including the Western Climate Initiative, the Pacific Coast Collaborative, the Western Interstate Energy Board, National Emergency & Climate policy and a slew of both scientifically and politically sound legislation and ballot measures. Rarely has Tony Usibelli taken the spotlight, so the Energy Leadership Achievement awards were the perfect opportunity to spotlight just afew of his good deeds. Thank you, Tony, you earned it.
2017 CleanTech Achievement Award Winners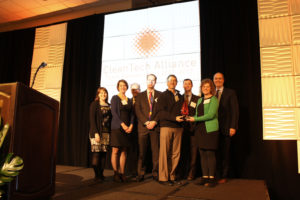 University of Washington
Consistently ranked as a top global university for innovation, the University of Washington supports the region's cleantech talent pipeline, R&D base, infrastructure and connectivity to the world. Key programs that support this work are the Environmental Innovation Challenge, Clean Energy Institute, and CoMotion. In addition, the University's world class faculty and facilities attract federal R&D funding for technology commercialization to the region.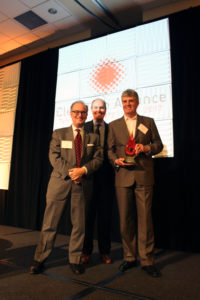 Dave Curry of Demand Energy
Dave Curry has been a leader in the Northwest cleantech sector for years. His entrepreneurial efforts have created jobs and brought focus, capital and growth to the sector. Curry founded Demand Energy in 2008, which was one of the first energy storage companies both in the region and in the energy storage industry at large. The company was purchased recently by Enel, which will make its technologies available around the world.
2017 CleanTech Vision Award Winners
The CleanTech Vision Awards honor an organization and an individual for championing innovation that will forever change the clean technology sector. CleanTech Alliance debuted the award in 2017, which was sponsored by Seattle City Light. The winners were:
Impact Bioenergy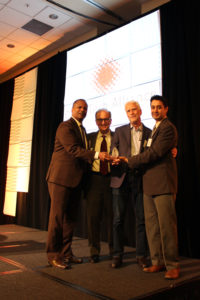 Impact Bioenergy's distributed bioenergy solutions help communities and companies dealing with food generate energy from organic waste streams. The company's prefabricated bioenergy systems and technologies allow for onsite bioenergy food waste diversion, thus substantially reducing costs and generating a faster ROI than wind or solar.
Virginia Emery of Beta Hatch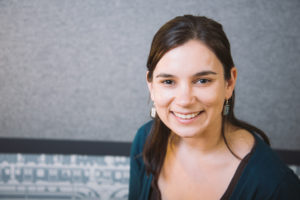 Virginia Emery is single-handedly building an insect-as-protein industry in the Northwest region. Through her startup Beta Hatch, Virginia commercialized insects as high-protein animal food and soil products that are efficient enough to change our food systems. Insects are one of the greatest untapped resources for building more clean and robust food systems, and Virginia is one of few who have developed a viable option to make use of that resource.
2017 Chairman's Award
The Chairman's Award, debuted in 2017, is a special presentation selected by past and present CleanTech Alliance Board Chairs to honor an organization or individual for their contribution to the CleanTech Alliance and its mission. Boeing sponsored the 2017 award, which went to: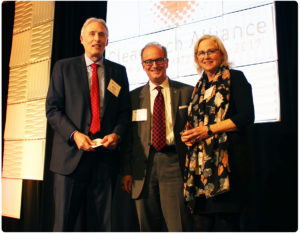 Maggie Brown of APCO Worldwide
A panel of past and present CleanTech Alliance Board Chairs selected Brown for her ongoing commitment and impact to both the CleanTech Alliance and the broader industry. Maggie is executive director and managing director of APCO Worldwide's Seattle office where she focuses on supporting cleantech companies with issue management, corporate positioning and crisis and litigation communication programs. She has helped numerous clients manage issues related to energy, environment and sustainability through the development of effective communication strategies.
2016 CleanTech Achievement Award Winner
McKinstry continuously looks for new ways to innovate the clean technology landscape. In the past 50 years, the company has transformed how buildings are designed, built, operated and maintained for optimal energy efficiency and occupant health. One example is the recent partnership with Clise Properties and Amazon, the nation's largest-scale heat recovery systems to cross property lines. This partnership, dubbed the "EcoDistrict," transfers data center waste heat to offset 75 percent of the heat needed by Amazon's new corporate headquarters across the street.
2015 CleanTech Achievement Award Winner
Washington State University boasts 16 research centers and labs leading in aviation biofuels, smart grid, advanced composite and bio-based materials, anaerobic digestion, air and water quality, sustainability building design and organic and precision agriculture. This diverse portfolio has earned WSU recognition as a national top-10 cleantech university.
2014 CleanTech Achievement Award Winner
Element 8 was the first angel investment group in North America to focus exclusively on cleantech, and continues to be a leading funder of early stage companies across the continent. Element 8's angel members are committed to a prosperous and sustainable future through clean technologies.Element 8 partners with outstanding entrepreneurs to build successful companies, and leverages its members' collective expertise to accelerate the transition to a cleaner future and better world. As of the award date, members had invested more than $18.5 million in 50 companies in across the globe.