Thank you for your support through a challenging 2020 year. Please see the below letter from our President & CEO, Mel Clark highlighting our accomplishments in 2020 and plans for 2021.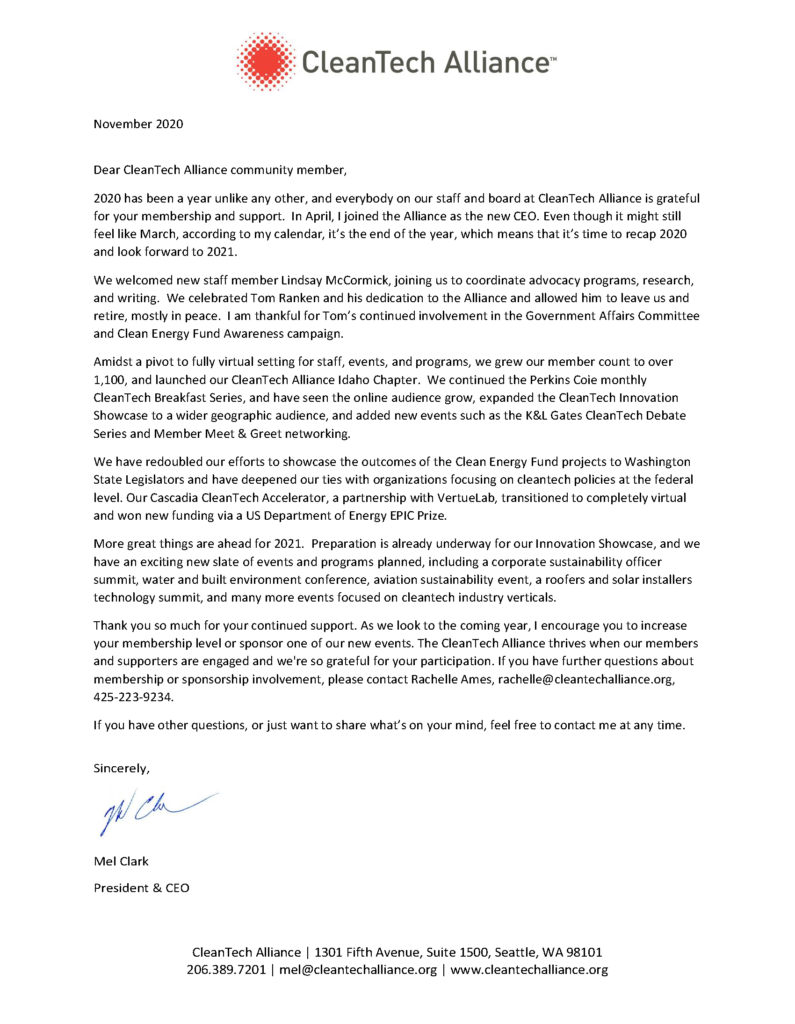 How does my company renew our membership?
Renewal invoices for the 2021 calendar year will be sent out to all members in early December. You will have the opportunity to pay via check, or credit card via our new member portal. If you are interested in increasing your membership level or sponsoring a new event to take advantage of increased benefits, please contact Rachelle Ames, rachelle@cleantechalliance.org or 206-389-6390. Thank you for your continued support of the CleanTech Alliance and growing the regional cleantech ecosystem.
New Events for 2021
Our classic events like the Perkins Coie monthly CleanTech Breakfast Series, the CleanTech Innovation Showcase, K&L CleanTech Debate Series and more will return in 2021, but we are adding a diverse array of new events too!
I have a Speaker Suggestion
We are always on the lookout for new, exciting speakers in the broad fields of cleantech and energy. If you would like to speak to our audience, or recently saw someone you think our audience should see, please let us know by filling out the following form.
New Diversity in CleanTech Fund
New this year, the CleanTech Alliance is launching the Diversity in Cleantech Fund – a program providing support for cleantech entrepreneurs and companies that increase the diversity of our sector. Funds will go towards supporting cleantech entrepreneurs from historically disadvantaged and rural communities; BIPOC-owned, veteran-owned and women-owned startups and small businesses.
Click here to learn more and donate.
I'm not a Member, but would like to be!
Visit our Become a Member page for more information, or contact Rachelle Ames via rachelle@cleantechalliance.org or 206-389-6390.