How does my company renew our membership?
Renewal invoices for the 2023 calendar year will be sent out to all members before the end of 2022. You will have the opportunity to pay via check, or credit card via our member portal. If you are interested in increasing your membership level or sponsoring a new event to take advantage of increased benefits, please contact Rachelle Ames, rachelle@cleantechalliance.org or 206-389-6390. Thank you for your continued support of the CleanTech Alliance and growing the regional cleantech ecosystem.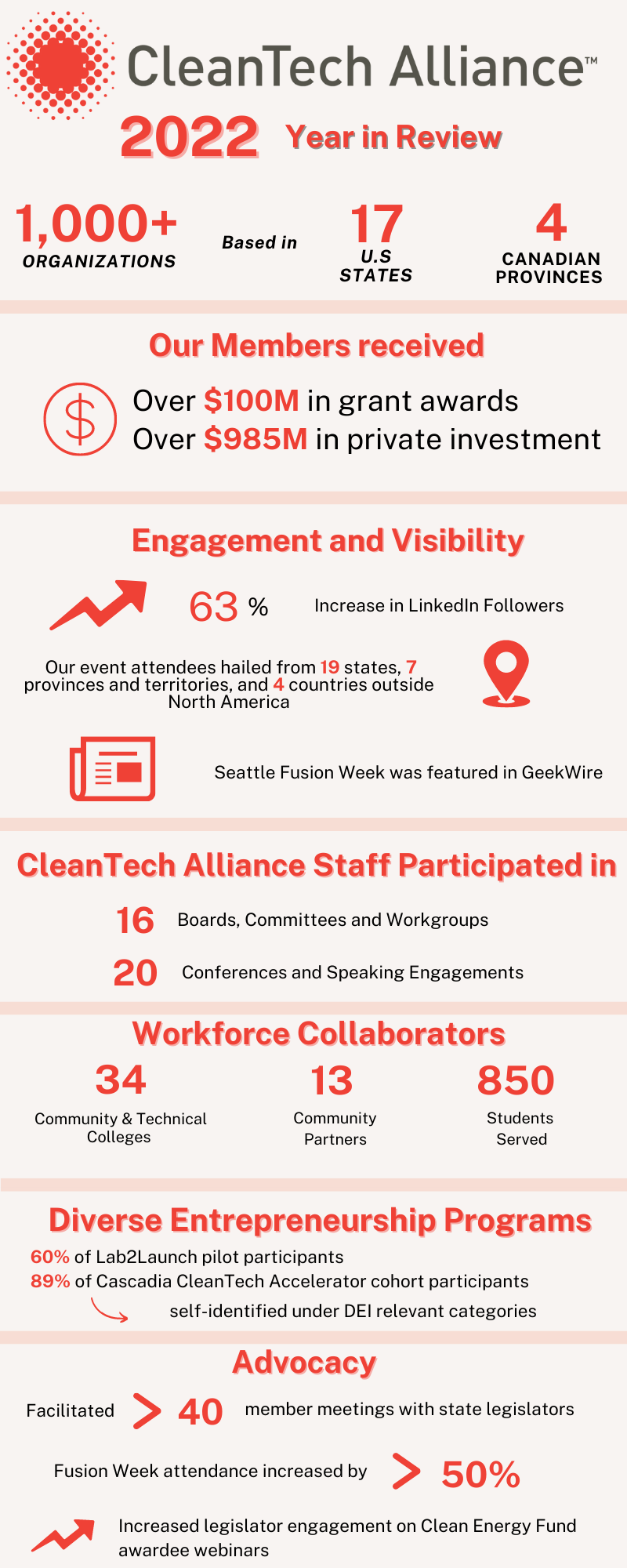 New Events for 2023
Our classic events like the Perkins Coie monthly CleanTech Lunch Series, the CleanTech Innovation Showcase, K&L Gates CleanTech Networking Receptions, and more will return in 2023, but we are adding a diverse array of new events too!
I have a Speaker Suggestion
We are always on the lookout for new, exciting speakers in the broad fields of cleantech and energy. If you would like to speak to our audience, or recently saw someone you think our audience should see, please let us know by filling out the following form.
Diversity in CleanTech Fund
Diversity in Cleantech Fund – a program providing support for cleantech entrepreneurs and companies that increase the diversity of our sector. Funds will go towards supporting cleantech entrepreneurs from historically disadvantaged and rural communities; BIPOC-owned, veteran-owned and women-owned startups and small businesses.
Click here to learn more and donate.
I'm not a Member, but would like to be!
Visit our Become a Member page for more information, or contact Rachelle Ames via rachelle@cleantechalliance.org or 206-389-6390.
Member Benefits and Pricing
Executive Circle
Platinum
Gold
Standard
Membership for all employees
X
X
X
X
Member rate event registration for all employees
X
X
X
X
Cost savings and discounted offers
on business services
X
X
X
X
Access to CleanTech Alliance Health Trust
(eligibility restrictions apply)
X
X
X
X
Eligible for features, executive Q&As
and newsletter stories sent to 13,000+ subscribers
X
X
X
X
All employees eligible for participation
on committees and working groups
X
X
X
X
Access to Job/Research Opportunity Board

X
X
X
X
Board of Directors seat
X
X
X
Preferred consideration for speaking opportunities for company representatives
X
X
X
Listing in CleanTech Alliance staff email signatures
X
X
X
Preferred consideration for CleanTech Alliance
headline event sponsorship
X
X
Advertisements on CleanTech Alliance Directory
Unlimited
5 included
($250 value)
2 included
($100 value)
Member Rates
Advertisements on CleanTech Newsletter
Unlimited
5 included
($250 value)
2 included
($100 value)
Member Rates
Listing categories in the online membership directory and resources pages
(Updated Offering!)
Unlimited
Unlimited
5 included
1 included
Complimentary postings to Job/Research Board

Unlimited
Unlimited
5 included
($250 value)
Member Rates
Complimentary exhibit space at
CleanTech Alliance events

Any event
(>$4000 value)
2 events
($2000 value)
1 event
($1000 value)
Annual membership dues (calendar year)
$25,000
$12,000
$6,000
$400 - $4,000*
Complimentary CleanTech Alliance event tickets

4 each event

2 each event

1 each event
Member Rates
Discount on any additional tickets to CleanTech Alliance events
40%
30%
20%

*Standard membership dues are $400 for 0-3 employees, $750 for 4-7 employees, $1,450 for 8-12 employees, $2,150 for 13-19 employees, $3,150 for 20-49 employees, and $4,000 for 50 employees and higher.


Health Trust Brokers Price is $325 .