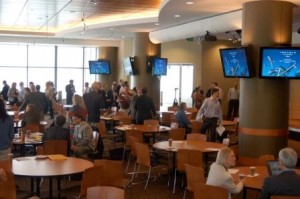 On June 17, 2011, the WCTA sponsored a half day seminar on Growing Cleantech Businesses. This is a synopsis.
Follow this link to view many of the presentations:  http://9slides.com/channel/WCTA
Foss Maritime uses hybrid technology to create tugboats that can do what ordinary tugs cannot:  They consume 25% less fuel, have more safety features, and require less maintenance than the standard tugboat.  The hybrid tug's main engine remains turned off nearly 50% of the time reducing idling pollution.  Vice President Susan Hayman of Foss Maritime spoke on behalf of the company about the 2011 hybrid tugs.  She reported that the Foss Dolphin tug emits 27% less CO2 than the standard tug model.
Sustainable Aviation Fuels Northwest is a unique collaboration that aims to develop a biofuels industry in the Northwest.  John Gardner, WCTA Board member and former Vice President at Washington State University, discussed the SAFN effort.  The initiative was launched in July 2010 by Boeing, Alaska Airlines, the Port of Seattle, the Port of Portland, the Spokane International Airport, and Washington State University, a center for advanced biofuels research.  Climate Solutions was retained to manage a stakeholder process that included more than 40 organizations ranging across aviation, biofuels production, environmental advocacy, agriculture, forestry, federal and state government agencies, academic research, and technical consultancies.  SAFN strives to create sustainable aviation fuels; only the fuels that surpass certain approval standards are used as aviation biofuels.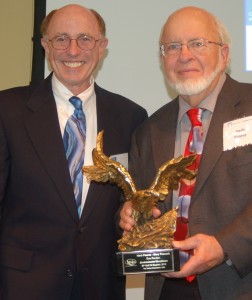 ADsorb-It, a product developed by Eco-Tec, Inc., removes oil, oil sheen, oil-borne contaminants, and suspended solids.  It allows virtually unrestricted water flows.  It was extensively deployed to block oil from reaching marshes and beaches in the Gulf of Mexico following the BP oil spill.  ADsorb-It was incredibly successful in its deployment across hundreds of miles saving beaches and wetlands (The material was recently pulled out due to its negative impact on tourism in the area).  Company president Herb Pearse received an award for his efforts in the Gulf of Mexico oil spill at the WCTA Growing Cleantech Businesses meeting.
Infinia uses Stirling engine technology to generate solar power and requires virtually no maintenance.  The PowerDish can be developed quickly and may be used in many different settings.  Speaking on behalf of Infinia, Jason Modrell, talked about the company's recipe for success after two-and-a-half decades in business.  He emphasized the importance of companies hiring the right people, including a CEO able to attract investors. By completing the necessary research and knowing the market well, Infinia demonstrated a compelling investment story from the beginning.
Clarian Power's SmartBox Solar Module is a plug-in solar panel that's affordable and easy to install.  The technology allows homeowners to plug solar power into an existing outlet without the expense and hassle of larger turn-key systems.  SmartBox technology serves as a power source that can integrate wind and solar power that you can plug into a regular home electrical outlet.  The SmartBox technology is simple, affordable, and can be used on everything from "fridges to dishwashers, to plug-in solar panels and wind turbines."  Speaker and CEO Chad Maglaque spoke about the difficulties of funding green projects and about the importance of the ability to shift courses in business while staying true to the company's mission.
Clean Tech Open 2011 Semifinalists
The Pacific Northwest Cleantech Open Semifinalists were announced at the meeting.  The Washington state winners were:  Clarian Power, GreenSimian, GridMobility, IDEAbuilder, MotoVolta, Mountain Logic, Sky Mill Energy, Versalence, and WISErg.  Each semifinalist was asked to give its 'elevator pitch."
Follow this link to view the elevator pitches:  http://9slides.com/channel/WCTA
Lunch Panel:  The Post-Fukushima Era:  Is Nuclear Power a Safe, Green Power Source?
In his nuclear panel presentation, Professor Ken Nash of Washington State University argued that we do indeed need nuclear energy; it is a relatively low-cost and efficient base load source of power.  The intermittance of other energy forms such as wind and solar energy require a backup source.  Nuclear power currently makes up about fifteen percent of the world's electricity, a fairly significant percentage. The problem is, as Dr. Nash stated, that not enough research goes into nuclear energy research.  The US also has not invested enough time or money in nuclear energy, which might well mitigate safety and other issues.  In light of the recent nuclear disaster in Japan, Dr. Nash assured that nuclear plants could be safer if they were more thoroughly regulated and funded by the industry.  He says that on a nuclear reactor safety scale of 1-4, current nuclear reactors need to move up to a 4, which has yet to happen.
A respondent panel consisted of Dr. Nash,  Jim Harding (Harding Consultants), Steve Otis, PE (University Mechanical Contractors), and Pat Schweiger (TerraPower).  It was thoughtfully moderated by Steve Scher, KUOW.  Ross MacFarlane (Climate Solutions) was drafted to fill in for a panelist with car trouble.  The panel explored additional ideas and offered alternative views on the viability and cost of nuclear power.
See Dr. Nash's presentation here.