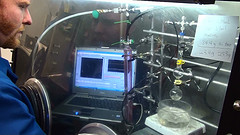 Source:  Pacific Northwest National Laboratory Press Release, August 25, 2011.  Battelle researchers based in Richland, Wash., have been awarded nearly $2 million from the Department of Energy's Office of Fossil Energy and the National Energy Technology Laboratory to study how well a new carbon dioxide capture process can work to pull greenhouse gases out of emissions from coal-fired power plants. Scientists estimate the new process is estimated to save more than 50% of total costs over current emissions treatment options.
During the three year project, Battelle scientists will work with the Fluor Corporation and Queens University to evaluate the advanced carbon dioxide capture system, called Polarity Swing Assisted Regeneration, or PSAR. Developed at Pacific Northwest National Laboratory, which is operated for DOE by Battelle, the PSAR process uses organic liquids to capture and separate out the carbon dioxide from flue gas at a much lower temperature than the process currently used in coal-fired power plants. That process, called thermal swing regeneration, requires significant power to heat, boil and cool harsh chemical sorbents in a series of steps to remove the CO2 from the flue gas.
Much less power is required to complete the PSAR process.
"A key distinction of PSAR is that the process makes efficient use of heat from the power plant rather than using valuable steam, to operate the carbon dioxide capture process, saving power producers energy and money," said David Heldebrant, Battelle senior research scientist. "This not only improves the efficiency of the overall process but also simplifies the use of this process as a retrofit to an existing pulverized coal power plant."
In previous work, Heldebrant and his team have found that the recyclable organic liquids used in the process, called CO2BOLS, have the capability to capture the same amount of gases-per-weight over existing treatment sorbents with much less energy. The CO2BOLS also are recyclable and environmentally friendly, and scientists estimate power producers could realize an even greater cost benefit, over time, due to lowered cost of materials and a decreased rate of decomposition of the liquid.
"This could be a very effective way for power producers to reduce their environmental footprint and realize some major cost benefits," said Heldebrant.
Battelle will lead the collaborative team on the project. Work will begin this fall.