Source: Tom Sowa, Spokesman-Review, November 4, 2011.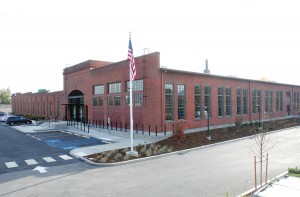 Several years ago Dean Allen was driving around Spokane in search of a site for a company office.
He spotted an aging brick building along the banks of the Spokane River just east of downtown, and he decided it had potential.
Allen, the CEO of Seattle-based McKinstry, now says the large building, built in 1907 and originally used as a railroad repair depot, was the best possible choice. It brought together about 90 workers inside a historic building that Allen hopes will become a gathering spot for other creative, innovative companies and startups.
McKinstry, which designs, builds and manages other companies' properties, has several offices across the western United States. The firm has operated in Spokane for about 10 years.
But for Allen and others, McKinstry's restored Spokane building is the plum and perfect example of the company's core values of tech innovation and historic preservation.
He said it was also important to move into the Spokane University District, the area east of downtown that has been planned as a gathering spot of businesses, higher education training, research and student activity.
"We see this first as a commitment to our people," Allen said. "But we really believed strongly that we need to put down deep roots since we plan on being in Spokane for at least another 100 years."
Having spent more than $20 million to buy the property and renovate it, McKinstry can afford to see that investment as a long-term asset. "We're a built-to-last company," he added, noting McKinstry has been in business 50 years and regards the Spokane building as the key to decades of future growth across the Inland Northwest.
Read more.