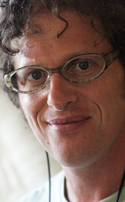 I had a chance Monday night to attend a great dinner Monday night (the lasagna at Cuoco is killer).  The director and producer of Carbon Nation, Peter Byck, joined a small group of us courtesy of David Allen of McKinstry.
You may recall seeing Peter at the Seattle premier of the Carbon Nation movie in March, 2011, which was presented by Boeing and the Washington Clean Technology Alliance.  The movie excited a lot of people by presenting a different kind of view of climate policy:  One that put ideas and solutions at the center of the discussion.
Peter is a really good guy.  He is just as passionate as ever.  His goal is to get the film seen by everyone (click here).  He has big ideas about taking this concept further–turning it into a television series highlighting the real world actions that people and businesses are doing that make a difference.
What struck me about Peter, though, was his attitude about the schisms that exist in American politics today.  He's not buying it.
Peter talks to everyone, regardless of political persuasion.  You can see that in the movie.  He thinks that there is enormous common ground between what most of us view as political extremes.  He talked about the concerns most people share about the environment.  He listens to concerns about energy efficiency and national security.  He is convinced that most people–though they may have very different motivations–agree about many of the solutions for solving problems.
Personally, I have been troubled by–what looks to me like–the death of the center in American politics and the radicalization of both extremes.  Let's hope Peter's optimism is right.
Peter Byck has over 20 years experience as a director and editor. His first documentary "Garbage" won the South by Southwest Film Festival. (It screened in scores of festivals in the U.S. and Europe and played at the Museum of Modern Art and Lincoln Center).  He has edited documentaries for Peter Jackson's last two films, "Lord of the Rings" and "King Kong." Peter has also worked as an editor or director for documentaries and promotional shorts for Warner Bros., Universal Pictures, 20th Century Fox, MTV, Vh1, BBC, Disney and MGM, for shows and movies including "The West Wing," "The Matrix," "Scrubs," "er" and many more.