Source:  Seattle PI.com, December 12, 2011.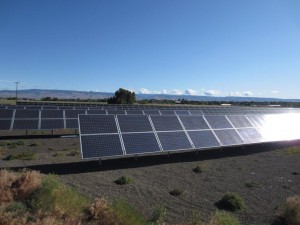 A team of municipalities, utilities and nonprofit organizations led by the Washington State Department of Commerce has been awarded more than $520,000 from the U.S. Department of Energy to accelerate the use of solar power in the state.
According to a report released earlier this year by solar company SunRun, local permitting and inspection processes alone add $0.50 per watt, or $2,500 per residential installation nationwide. Soft costs — permitting, installation, design and maintenance — currently account for up to 40 percent of the total cost of installed rooftop photovoltaic systems in the U.S.
This grant will provide $523,800 to streamline and standardize permitting, zoning, net metering and interconnection processes while also improving financing options, reducing barriers and lowering the cost to install residential and small commercial rooftop solar energy equipment. Among the improvements the Washington team will work to create are an online permitting system, shorter permitting turnaround times and resolve barriers.
The Cities of Seattle, Bellevue, Edmonds, and Ellensburg; Seattle City Light, Snohomish Public Utilities District and Puget Sound Energy; Northwest SEED; Solar WA; Thurston Energy; and Sustainable Connections make up the team that's working to do all that.
Seattle Mayor Mike McGinn said the team has an opportunity to make it easier for residents and small businesses to tap into the power of the sun.
This award is part of $12 million in funding for the Rooftop Solar Challenge under U.S. Department of Energy's SunShot Initiative. This challenge is part of the Energy Department's larger effort to make solar energy more accessible and affordable, increase domestic solar deployment, and position the U.S. as a leader in the rapidly-growing global solar market.
Across the United States today, there are more than 18,000 local jurisdictions with their own PV permitting requirements, land use codes and zoning ordinances; more than 5,000 utilities that are implementing standards for connecting and selling energy back to the energy grid; and all 50 states are developing their own connection standards and processes for supplying and pricing energy sold back to the grid.
Daniel Malarkey, Washington State Department of Commerce Deputy Director, said he's encouraged that the Department of Energy is supporting efforts to streamline processes to produce renewable energy. "Governments working together can help create a larger market that will help bring costs down," he said.