Source:  Hal Bernton, Seattle Times, December 19, 2011.  Hal Bernton: 206-464-2581 or hbernton@seattletimes.com.  Biodiesel-fuel producer Imperium Renewables had a troubled debut. But founder John Plaza says Imperium has turned around, making profits and boosting production.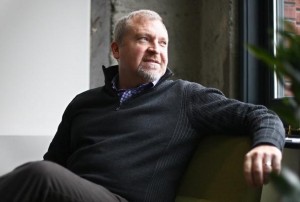 John Plaza | Position: Founder and CEO of Seattle-based Imperium Renewables | Background: Raised in Talkeetna, Alaska. Worked as a commercial airline pilot before founding Imperium in 2004.
Back in 2000, while piloting a Northwest Airlines cargo jet from Anchorage to Tokyo, John Plaza made an unsettling calculation about his Boeing 747's fuel consumption: The flight, he figured, would burn through enough energy to power his personal car for some 42 years.
"I decided I really wanted to do something different from just sucking fuel through the engine of a jet," Plaza says. "I wanted to create a company where I could actually work on reducing emissions and energy consumption of traditional carbon fuels."
In the years that followed, Plaza launched Imperium Renewables in Seattle, which became one of the nation's largest producers of biodiesel fuels with the 2007 opening of a plant in Grays Harbor capable of producing 100 million gallons a year.
But the plant had a troubled debut, slammed by a steep decline in fuel prices, escalating costs of agricultural feedstocks and a tariff that priced the company out of key markets in the European Union. By 2009, a public offering had been shelved and the company had laid off most of it workers.
Now Imperium has turned around, Plaza says. He points to eight consecutive quarters of profitability, a fourfold increase in biodiesel production over 2010, and repayment of $101 million in debt financing, as signs the biodiesel producer is here to stay.
"2011 will be the best year that we ever had, the highest profitability — and we are feeling very confident that 2012 will be a better year," Plaza said in an interview at the company's Seattle office. He declined to give sales figures for competitive reasons.
Imperium's tumultuous path also included the resignation of the company's chief executive officer, technology entrepreneur Martin Tobias, just months after the Grays Harbor plant opened. Plaza stepped into the post.
"We have learned a lot," Plaza says. "We have raised a lot of money. We have had some success. We have had some failure. We have refocused. We really have taken all of this, and tried to become a better company."
Plaza says the company has been buoyed by a biodiesel mandate in Oregon and a new push to reduce the carbon content of fuels in British Columbia that opened up strong new markets.
The mandates require that percentages of biodiesel be blended with diesel sold at service stations. (Washington also passed a law that sought to mandate the use of biodiesel, but it is so loosely written that petroleum marketers have not been required to use the fuel, according to Plaza.)
"They are the poster child for everything that has gone right, then wrong in the biodiesel industry across the county," said Peter Moulton, bioenergy coordinator for the Washington state Department of Commerce.
Ultimately, he said, "They did what was needed to turn things around and survive."
Imperium also is on the front lines of research efforts to develop what could eventually be a major new biofuels market — aviation. Imperium is working with two partners, Lanzatech and the Pacific Northwest National Laboratory, on a technology to convert cellulose to ethanol to jet fuel that earlier this year received a $4 million grant from the federal Energy Department.
Flying, conservation
The 46-year-old Plaza says he got both his love of flying and a commitment to conservation from his boyhood years. His family moved from Nevada City, Calif., to Talkeetna, Alaska, where his father, a schoolteacher, moonlighted as a pilot hauling food and supplies out to remote camps.
"We lived in a log cabin with no electricity and running water … so through the whole experience of childhood I was always conscious of energy consumption, and where we got our energy from," Plaza said.
Most U.S. biodiesel is produced from soybean oil produced by farmers in America's Midwest.
For the plant in Grays Harbor, Plaza opted to use canola oil, an oilseed crop often grown in rotation with wheat and peas by dryland farmers in Western Canada.
Canola-seed pods, when pressed, produce both an oil and high-protein meal that is often fed to dairy cows
In recent years, canola-oil markets have been volatile, jumping more than 25 percent during the past year to the current price of about $3.70 per gallon. Once the oil arrives at the Grays Harbor plant, it is processed to create biodiesel and a separate product — glycerin — used in soaps and other products.
The processing adds about 15 percent to the cost of biodiesel, according to Plaza, and there are additional expenses getting it to market.
Plaza says that federal policies, including tax credits, help make biodiesel competitive with diesel derived from petroleum. That tax credit is scheduled to expire at the end of this year, however.
Even without the tax credit, Plaza says biodiesel's future appears to be secured by federal mandates that will require 1 billion gallons of biodiesel fuels to be marketed in the U.S. in 2012. Higher amounts are expected to be mandated through 2023.
Read full story here.