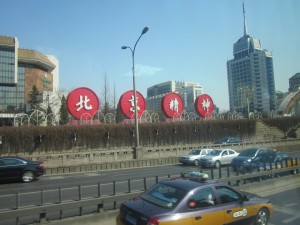 Flying west for eleven hours was a lot less difficult than I had feared.  We arrived in Beijing around 5 p.m. after a non-stop flight from Seattle.  We had very little difficulty in getting through customs, into town, and into the hotel.  A terrific Chinese dinner with ten colleagues had me ready for bed.  I fell asleep easily after being up for over twenty-four hours.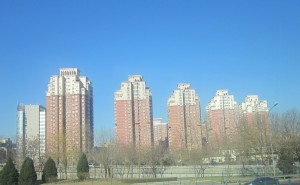 My first impression of Beijing was that it wasn't as different as I thought that it might be.  It certainly didn't seem like the Third World.  There weren't hordes of bicycles or other reminders of days gone by.
The buildings seemed largely industrial–at least the ones that we passed that were probably urban multifamily housing.  There were fields of identical large buildings.  The downtown commercial buildings could be in any modern city in the world–lots of interesting designs and differences.  I would guess this is because the residential buildings are mostly government built, but the commercial buildings are sponsored by individual companies.
In fact, much of what we saw looked like virtually any huge city in the world.  There was surprisingly little traffic on the drive in on Saturday afternoon and as we left early Sunday morning.  But by mid morning, the roads were becoming busy, then crowded.
Given that the first day was a Sunday, the group was scheduled to tour the Great Wall of China, Tianammen Square, and the Forbidden City.  And, of course, they got us to go into three factory/tourist traps.  We didn't buy much.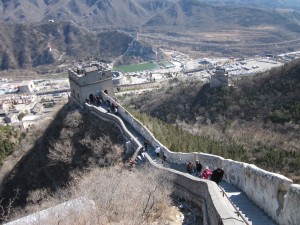 Our first stop was the Great Wall.  Dating from the early 1400s, the Great Wall of China stretches 4,000 miles.  The pictures don't really do is justice.  It is magnificent–and a hard climb to get up.
An eleven-year-old girl befriended us in the parking lot.  She came to the Great Wall on Saturdays to practice English with her friends.  We became her new friends and she gave me a pin.
We had a good, if somewhat bland, Chinese lunch.  We noticed that the foreigners were all together upstairs and the Chinese were all downstairs.  I am guessing the food was a bit more interesting downstairs!
Some of us were a bit surprised at how similar Beijing is to America.  We were expecting something vastly different.  Chinese standards of living have clearly improved massively over the past three decades.  The crowded streets, for example, were filled with car brands that were very recognizable:  Volkswagen, Ford, Toyota, Audi.  There were some similar brands on storefronts.  There were lots of signs in English, although we were occasionally amused by grammatical errors ("Protect the cultaral artifacts)".  It is almost as if English is a second language in China….
Tiananmen Square and the Forbidden City were massive.   We walked for the better part of two hours from Tiananmnen Square through the Forbidden City.   We noted a number of uniformed guards in Tiananmen Square who looked like they were very serious about their jobs.  For the remainder of the walk, however, there was little evidence of any kind of security forces of any kind–notwithstanding large crowds in a cultural treasure.
Tomorrow begins the work sessions.