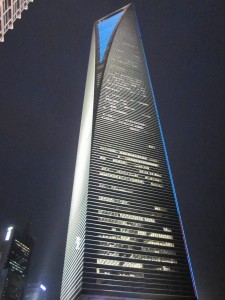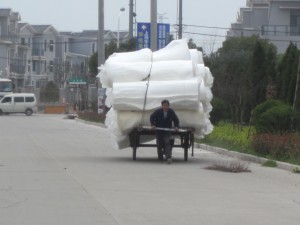 This is a huge modern city.  The skyline–particularly at night–is stunning.  Yet it wasn't unusual to see glimpses of the old China during our bus rides and walks through Shanghai.
We started the day early at 645 a.m. to beat the traffic.  We did–and got to spend some welcome time at a Starbucks.
Our first meeting was with Fred Chang at Chrysalix Capital and Peter Corne of Dorsey & Whitney.  China was described as a nation of enormous cleantech potential, but that it had not created much innovation in the sector yet.
But, we were told, it is inevitable.
China is doing "all the right things" to be a great innovation player.  Academia is being reformed and more students are coming or staying home.  Research is focused on industrial improvements.  More research money is being provided.  "It is not if, but when" it will become successful.
We moved on to APCO Worldwide.  We heard a detailed analysis about New Energy in China  with a focus on regulatory  perspectives by Deputy Managing Director Reggie Lai.
Reggie described the government of China as the "most powerful government in the world" and that it essentially runs everything in China.  There is now, however, some dissension in the National People's Congress:  the nation's budget was adopted with 500 dissenting votes (of 3,000).
The Chinese, he said, have been concerned about the value of their US debt holdings and inflation.  This has resulted in increased, targeted investments in the US.  See Reggie's presentation here.
We met last with Harrison Tu at Infinity Solar Ltd.  The company has spent the past three years developing thermal solar technology that they hope to begin selling commercially soon.  The technology allows the company to install a solar thermal unit on homes, which can be used to heat water and the home, and, eventually, air condition homes.  The company believes that there are large markets for the technology in China and globally.