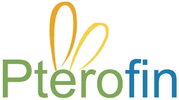 Click to watch video of Pterofin prototypes
WCTA Member and Pacific Northwest Cleantech Open Semifinalist Pterofin is now officially incorporated.
In August of last year, the company filed an application for a non-provisional patent and qualified for a green fast-track patent under the American Recovery and Reinvestment Act.  The  patent is expected in 2013.
Pterofin is working to raise $200,000 by September 2012. This fundraising will secure the software we need to validate the technology's design in addition to payment to lawyers pushing our patent paperwork through the US Patent Office.
Since testing the Pterofin prototype this past March at the Kirsten Wind Tunnel and Water Tunnel at University of Washington, the team has been fine-tuning and fast-tracking design validations, pushing the technology to the limit.
The Pterofin prototype is inspired by natural movements in the flapping of a bird's wing. The biomimicry evident in the design, takes a natural approach to water pump technology. Opportunities for deployment include regions of the world where the wind speed is low and water resources cannot be piped.
Source:  Pterofin Newsletter, August 2, 2012.