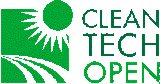 The Pacific Northwest Cleantech Open competition named it's regional finalists on Tuesday night.  The winners, who will be representing the Pacific Northwest in the National Global Forum in San Jose in November, are:
GR Green Building Products is the developers and manufacturers of the 1st truly 'manufactured-green', synthetic roofing products in North America.  Every GR GREEN roof saves 4,400 milk bottles and 44,000 plastic bags from ending up in an incinerator, landfill or worse… floating in our oceans.  "GR GREEN Cedar™" and "GR GREEN Slate™" are virtually indistinguishable from real cedar and slate, have none of the downsides and sell at a fraction of the cost.  Full-scale production of "GR GREEN Cedar™" and "GR GREEN Slate™" will commence in the fall of 2010. Delivery dates are available for Spring 2011.  The company is relocating from Burnaby, BC to Washington state.
Vyykn aims to end America's addiction to bottled water with a subscription refill service, which allows customers to fill up on oxygenated and filtered water for a yearly fee of $30.  The company is water purification system using several methods of water purification including reverse osmosis, ultra-violet light sterilization, and ozone purification methods.  The subscription comes with a electronic keychain chip that activates the spout on a futuristic looking dispenser, complete with options for O2, filtered, and hot water.  Vyykn also won the sustainability prize.  The company is based in Idaho.
Regenergy365 is a cleantech company dedicated to developing and deploying green building energy recovery and generation technologies which provide point of use electrical energy generation for the global commercial, industrial, institutional and manufacturing sectors. The company's technologies focus on mitigating intense energy consumption costs from HVAC systems in an effort to support building efficiency and measurable cost savings.  Efficiency and sustainability have become critical initiatives for companies and governments worldwide.  Through the deployment of our patented E.C.E.R.D.™ (Exhaust Capturing Electrical Regeneration Device) technologies Regenergy365™ is meeting the growing clean energy needs of its customers around the world.  The company is based in Oregon.
Find more on Geekwire, October 12, 2012.