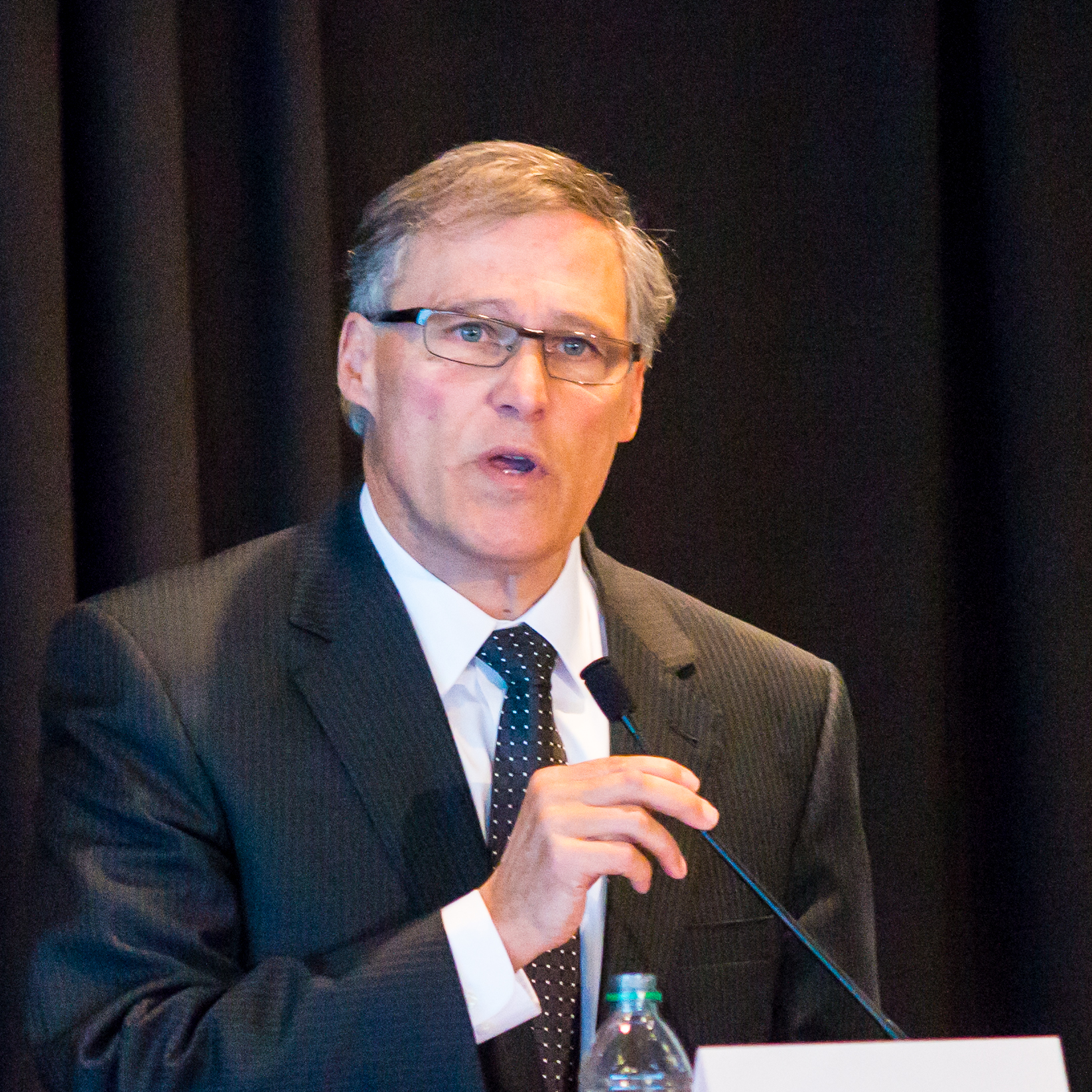 Governor Jay Inslee has called for over $100 million in new cleantech-related investments.  The Governor released his Working Washington:  Budget Priorities 2013-15 on Thursday, March 28, 2013.  He says that "Our number one priority is revitalizing Washington's economy and building a 21st century workforce."
To do that , Governor Inslee is proposing increases in the funding of STEM degrees, a UW Clean Energy Institute, the WSU Center for Bioproducts and Biofuels, a fund for building efficiencies, grants to utilities to improve the management of renewable and distributed energy, matching clean energy research funds, and more electric vehicle charging facilities.  The Governor has proposed funding to implement the recommendations of the Ocean Acidification Panel, partnerships that improve biofuel production methods, and the Governor's Climate Legislative and Executive Work Group.
More detail on the Governor's proposals can be found below:
STEM (Science Technology Engineering Math) enrollment pool.  Increasing the supply of qualified engineers and getting more Washington students to fill high-tech job vacancies.
Create a competitive enrollment pool for the public four-year universities. This will help industry fill positions with qualified employees, especially those in STEM fields. Winning proposals must demonstrate innovation and cost efficiency. Such new investment allows us to grow the workforce that our economy needs.  Cost:  $11.0 million.
Clean Energy Research:  Ensuring that the global leaders of the clean energy industry are based in Washington.
Create a Clean Energy Institute at the University of Washington to focus on next-generation energy storage and solar energy. Additional staff, advanced computing support and, most importantly, a clear mission will make the institute a global model in this emerging sector.  Cost: $12.0 million.
Invest in Washington State University's Center for Bioproducts and Biofuels in the Tri-Cities to leverage new federal and private grants and scale up its promising efforts. Ramping up research funding will help keep the region at the forefront of alternative and biofuels research.  Cost:  $5.2 million.
Climate, Energy and Natural Resources:  Taking actions to reduce greenhouse gas emissions and adapt to climate change that create jobs and protect the environment.
Provide grants through a revolving fund to not-for-profit lenders able to match the state grant with private capital.  Grants will be used to increase financing for building energy efficiency as well as for small and medium-scale renewable energy projects. The not-for-profit lenders will make loans to fund projects such as residential and commercial energy retrofits, residential and community-scale solar installations, anaerobic digesters to treat dairy waste, and combined heat and power projects using woody biomass as a fuel source.  Cost:  $20.0 million capital budget.
Fund grants to public utilities and entities that will match funds to implement solutions that manage intermittent renewable and distributed energy. Winning grants will advance the development of an industry standard for dispatching energy storage resources from utility control rooms and use power management technologies that could lower costs for utility customers.  Cost:  $20.0 million capital budget.
Provide matching funds to research institutions such as the University of Washington and Washington State University to make them more attractive as they compete for federal funds to develop clean energy solutions.  Funds will also support Washington's efforts to compete for federal funding for advanced manufacturing centers.   Cost:  $10.0 million capital budget.
Reduce greenhouse gas emissions by tripling the number of miles that can be traveled by electric vehicles (from 550 million to more than 1.5 billion miles). Funds will be used to construct 40 to 50 fast-charging (level 3) stations along interstates (82, 90, 205 and 405) and state routes (12, 97, 167 and 518) as well as in key urban areas. These installations would cost approximately $6 million. In addition, $3 million would be used for public and private workplace charging facilities (level 2) at approximately 150 locations statewide.  Cost:  $9.0 million capital budget.
Construct 30 biofuel storage, distribution and fueling facilities to ensure local and state governments achieve their alternative fuel goals and create jobs (assuming costs of approximately $300,000 per location, with one-third of the cost funded locally). These structures will offer ease of storage and distribution of commercial biofuel blends, especially in proximity to major state ferry and state and local government vehicle refueling centers.  Cost:  $6.0 million capital budget/$3.0 million matching funds.
Implement the priority recommendations of the blue-ribbon Ocean Acidification Panel to monitor and reduce impacts of acidic water on the state's shellfish industry and native shellfish.  Cost:  $3.3 million total: $2.0 million State Toxics Control Account; $820,000 Aquatic Lands Enhancement Account; $510,000 Resource Management Cost Account.
Fund grants and loans to public/private partnerships that offer innovative, effective biofuel production methods. This will boost the production of biofuels, shrink dependence on imported fuels and encourage the growth of oilseed farms. Funding will require a minimum of a 1-to-1 local/private match.  Cost:  $3.0 million capital budget.
Support the work of the Governor's Climate Legislative and Executive Work Group to develop policies and actions to reduce greenhouse gas emissions that meet legislatively established emission limits.  Cost:  $250,000 supplemental budget; $377,000 biennial budget.
Source:  Jay Inslee, Governor, Working Washington: Budget Priorities 2013-15, March 28, 2013.