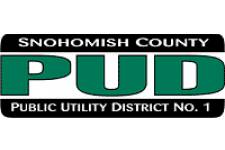 Snohomish PUD can help you find an energy efficient light bulb for virtually every fixture in your home. Compact fluorescent light (CFL) bulbs and LEDs come in all shapes and sizes and are designed for all kinds of applications.
A 75-watt incandescent light bulb left on for 12 hours a day costs about $29 per year in energy. Switch to an 18-watt CFL that provides the same amount of light at one-fourth the energy. You'll save $22 per year for every bulb you switch out.
LEDs (light-emitting diodes) use up to 90 percent less energy than incandescent bulbs and last up to 40 times longer. Like CFLs, the quality of light keeps getting better. They also come in multiple sizes and fit in track lights, vanities, globes and other fixtures.
With PUD lighting discounts at local retailers, it's an ideal time to try more of these in your home. For more details, including a list of lighting discount locations, visit www.snopud.com/efficientlighting or call the PUD Energy Hotline at 425-783-1700.
The PUD's lighting program is just one way to save energy. The utility offers a wide range of other programs, including cash incentives for home weatherization projects and heat pumps and rebates for recycling older, energy-wasting refrigerators and freezers.  In addition, the PUD offers local businesses cash incentives and technical assistance for a variety of measures that improve energy-efficiency in their facilities.
Source:  Snohomish County PUD, June 4, 2013.