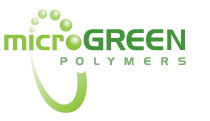 The cup that holds your morning coffee is a seemingly simple item to be used and discarded. It probably hasn't changed much over the years. No big deal, except that Americans go through 137 billion disposable beverage cups each, generating a tremendous amount of waste.
That looks like a huge opportunity toMicroGREEN Polymers, a company with a distinctly Pacific Northwest mix of technology, innovators, customers, and investors, now including two American Indian groups, which represent a new source of venture capital and private equity nationally.
The Arlington, WA-based manufacturer is raising $10 million from investors including the Confederated Tribes of the Grand Ronde. The financing is part of a $20 million round, which began early this year with a $5 million investment from the Stillaguamish Tribe, and is expected to close with another $5 million investment, also from American Indian tribes, says MicroGREEN president and CEO Tom Malone. The company plans to use the cash to expand its line of recycled and recyclable hot and cold beverage cups, and to increase production capacity.
The Stillaguamish and Grand Ronde are part of a growing number of American Indian tribes putting their newfound casino wealth to work in more sophisticated ways, including through direct investment in local companies focused on long-term sustainability, among other values that match their own.
Read the original article here.