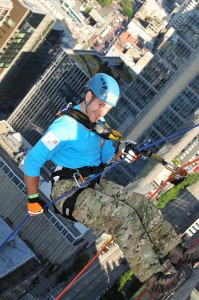 Avi Jacobson, senior sustainable energy coordinator at the Washington State Housing Finance Commission, will be honored as a Champion of Change at the White House on Nov. 5 for his work to advance clean energy.
"Being recognized is incredibly humbling, and at the same time a great opportunity to share how we are growing the green economy in Washington state," said Jacobson.
The Champions of Change event on Tuesday honors veterans who have taken action to promote clean, renewable energy sources, encourage climate resilience and preparedness, and raise awareness surrounding climate change.
Jacobson joined the Commission in 2011 to help implement the Commission's new mandate from the state legislature to find ways to support private investment in sustainable energy, energy efficiency and clean technology.
Thanks to his work, the Commission's Sustainable Energy Program has grown into a clearinghouse of information and a source of innovative financing models for developers of green homes, energy-efficiency upgrades and clean-energy sources. The Commission's bond-financing programs that he developed were recognized at the 2013 Better Buildings Summit as a model of public-private partnerships, and are now being replicated in other states.
Full press release here: AviJacobson_WhiteHouseChampion