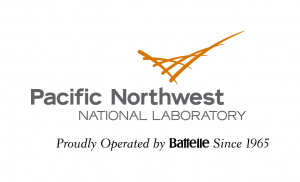 By Mary Beckman, PNNL
Researchers have developed a way to microscopically view battery electrodes while they are bathed in wet electrolytes, mimicking realistic conditions inside actual batteries. While life sciences researchers regularly use transmission electron microscopy to study wet environments, this time scientists have applied it successfully to rechargeable battery research.
The results, reported in December 11's issue of Nano Letters, are good news for scientists studying battery materials under dry conditions. The work showed that many aspects can be studied under dry conditions, which are much easier to use. However, wet conditions are needed to study the hard-to-find solid electrolyte interphase layer, a coating that accumulates on the electrode's surface and dramatically influences battery performance.
"The liquid cell gave us global information about how the electrodes behave in a battery environment," said materials scientist Chongmin Wang of the Department of Energy's Pacific Northwest National Laboratory. "And it will help us find the solid electrolyte layer. It has been hard to directly visualize in sufficient detail."
Ebb, Flow, Swell
Even though electricity seems invisible, storing and using it in batteries has some very physical effects. Charging a battery jams electrons into the negative electrode, where positively charged lithium ions (or another metal ion such as sodium) rush in to meet and hold onto the electrons. Those ions have to fit within pores within the electrode.
Powering a device with a battery causes the electrons to stream out of the electrode. The positive ions, left behind, surge through the body of the battery and return to the positive electrode, where they await another charging. Read more.