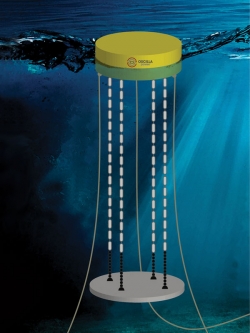 SEATTLE, Washington, January 27, 2014 — Oscilla Power, Inc. (OPI) announced today the successful completion of its 2013 open ocean testing, conducted at Isle of Shoals, NH.  OPI's prototype system was deployed in mid-July and recovered in mid-September, 2013. For nine weeks, two of OPI's "Gen 1" magnetostrictive power generators operated according to plan, turning Atlantic ocean waves into electricity. The field trial was jointly executed by OPI and the University of New Hampshire's Center for Ocean Renewable Energy and was supported by SBIR funding from the US Department of Energy.
"Oscilla Power made major strides forward in 2013.  We went from successfully testing a Gen 1 generator in our lab to deploying multiple generators in Puget Sound, then in the Department of Interior's Ohmsett wave tank and finally in the Atlantic." said Chief Executive Officer Rahul Shendure.  "In each case, the core technology performed as expected.  Having now completed post-deployment lab testing of the Gen 1 generators, as well as lab testing of a significantly larger 'Gen 2' generator, we are looking forward to deploying the next generation of our technology, built around commercial-scale 'Gen 3' magnetic cores, later this year."
OPI's wave energy harvester uses modular "no moving parts" generators, enabled by low-cost magnetostrictive alloys, to reliably convert mechanical energy into electrical energy.  Full-scale systems, deployed in utility-scale arrays, are projected to be capable of delivering electricity to the grid that is competitive with conventional alternatives in areas such as the UK, Northern Europe, the US West Coast and Japan.
"New approaches are necessary in order to get the cost and reliability of wave energy devices where they need to be." said Agustín Delgado, Director of Innovation of Iberdrola, a leading developer of onshore wind, offshore wind and marine energy projects around the world.  "We are looking forward to following the progress of Oscilla Power's novel approach this coming year."
OPI's "Gen 3" generator will be 4x the size, in terms of the cross-sectional area of the magnetic core, of the Gen 2 generators tested in 2013.  A next generation system incorporating the first Gen 3 generator, currently under assembly at the company's Seattle facilities, will be tested in the summer of 2014 at the same New Hampshire site.