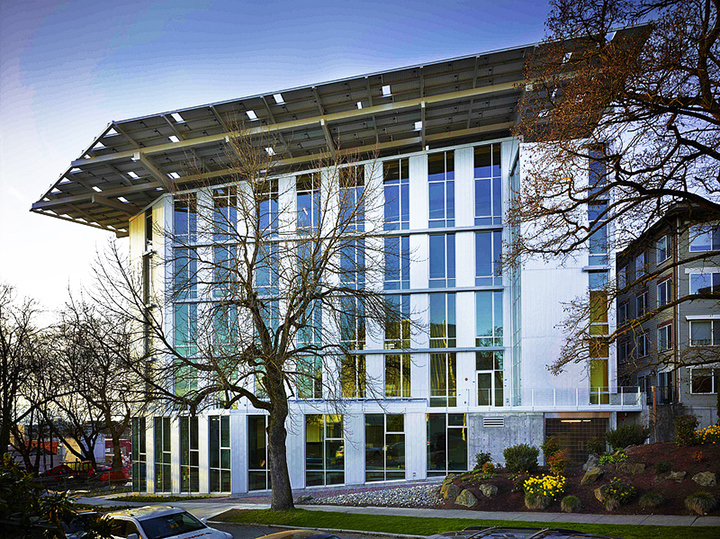 The Bullitt Center is the greenest commercial building in the world, it is Net Zero, and was recently named the World Architecture News Sustainable Building of the Year 2013.
In addition to an energy efficient design, the Bullitt Center relies on the behavior of the tenants to meet the goals of net zero energy and water. To support efficient behavior, the team developed a dashboard system that shows real-time data about energy and water use.
You may launch the dashboard to see how much energy the building is generating and using right now, along with a variety of other real-time information. Such as Radiant Heat, Walkable Neighborhood, Solar Panels, Computerized Systems and many more features that make this building Net Zero.
Bullitt Foundation President and lab director of the Solar Energy Research Institute in the late 1970s and early 1980s, prior to the name change to NREL in 1991, Denis Hayes:
If you took just the office buildings in the United States today, and reduced their energy consumption by half, you would be saving twice as much energy every year as America imports from the Middle East.
Seattle's Bullitt Center: The World's Greenest Office Building
[youtube]https://www.youtube.com/watch?v=kHtgie2t5UI[/youtube]

World Architecture News (WAN) recently named the Bullit Center in Seattle, Washington, as the WAN Sustainable Building of the Year. The structure beat out five global finalists, and was cited by judges for meeting the targets of the Living Building Challenge to the Net Zero Energy standard by supplying all net annual energy needs with onsite renewable energy sources, reports DOE's Office of Energy Efficiency and Renewable Energy.
According to WAN, the building's overhanging photovoltaic rooftop and facade provide the energy for the entire building by supplying 230,000 kilowatt hours per year. The overall energy usage is roughly 20% of the other buildings of its type in Seattle.
The Bullit Center is the first leasable market rate commercial structure that meets the targets of the Living Building Challenge to the Net Zero Energy standard, reports WAN.
The Bullitt Center will generate as much energy from rooftop photovoltaics each year as the six-story structure uses; the catch is that Seattle is notorious for its lack of sunshine, reports the National Renewable Energy Laboratory.
The building also will collect all of its water, including drinking water, from the rain that falls on its roof — which will then be stored in a 56,000-gallon cistern. Once the water is used inside the building, it will be treated and then returned to the soil.
More than 1,000 building components were researched to make sure nothing in the building released any toxic material at any time during its life cycle.
It is the world's first six-story structure with composting toilets.
Built to survive major earthquakes, the net zero commercial structure has a design life of 250 years.
Read more at http://cleantechnica.com/2014/01/31/net-zero-seattle-sustainable-building-year-video/#P5xQUYXiemC6kMt5.99