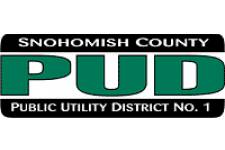 Everett, WA — The Federal Energy Regulatory Commission (FERC) voted unanimously today to issue a license to Snohomish County Public Utility District for a tidal energy pilot project in Admiralty Inlet, west of Whidbey Island, Wash. The project – the first grid-connected array of large-scale tidal energy turbines in the world – includes installation, operation and evaluation of two turbines at a depth of about 200 feet. The utility plans to move forward on contractual agreements, construction and deployment over the next two years. The turbines would be installed for a period of three to five years.
In issuing the license, FERC commissioners commended the PUD for its diligence in securing the license and for its extensive studies and public engagement. It noted the PUD's license plans to protect fish, wildlife, cultural and aesthetic resources, navigation and existing infrastructure in Puget Sound.
"The Admiralty Inlet project is an innovative attempt to harness previously untapped energy resources," said Acting FERC Chairman Cheryl LeFleur.
"Anyone who has spent time on the waters of Puget Sound understands the power inherent in the tides," said PUD General Manager Steve Klein. "In granting this license, the FERC acknowledges the vigilant efforts of the PUD and its partners to test the viability of a new reliable source of clean energy while at the same time ensuring the protection of the environment and existing uses."
The proposed tidal turbines are manufactured by OpenHydro (Dublin, Ireland). Each turbine measures 6 meters in diameter, with a 414-ton total weight. The foundation is secured by gravity only (no piling or pinning needed).  The turbines have only one moving part and require no lubricating oils or greases. Subsea cables will connect to shore on PUD-leased land south of the Coupeville Ferry Terminal, where it will connect to the electrical grid.
Admiralty Inlet offers attractive features, including swift currents, good access, a rocky seabed floor with little sediment and vegetation, and viable grid connections. The inlet is a very large body of water, which makes the footprint of the pilot plant small by comparison and helps to minimize any impacts.
As part of its FERC license application, the PUD has addressed a broad range of issues, such as the pilot project's design, operation, environmental studies, monitoring plans and biological assessments. During its public process, the utility also engaged numerous stakeholders, including local, state and federal agencies, tribal groups, business organizations and residents.
The PUD has worked with many technical partners on project studies covering areas such as acoustics, underwater topography (bathymetry), marine life, underwater monitoring, geotechnical data and water quality. Partners have included the University of Washington, Pacific Northwest National Laboratory (PNNL), Sound & Sea Technology and the National Renewable Energy Laboratory. The pilot project has been supported with grants from the U.S. Department of Energy, Bonneville Power Administration and federal appropriations.
OpenHydro projects in other parts of the world have shown no impact on marine life. Scotland's Orkney Islands (another OpenHydro site) have an ecologically diverse and productive marine ecosystem that is home to numerous fish species, shellfish, dolphins, seals, porpoises, whales and migrating turtles. Operations at the site have been continuously videotaped, and no marine life incidents have been recorded. OpenHydro's experience has been that fish and marine mammals do not interact with the tidal device.