There were 180,000 participants this year at the world's largest industrial trade fair:  The Hanover Messe.  This is a report from this year's show in Hanover, Germany, April 7-11, 2014, written by Andrew Crowder, Business Development Manager, Washington State Department of Commerce.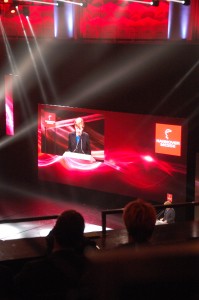 Summary
The Hanover Messe is the world's largest international trade show for industrial technology. Over the years, it has evolved into a major industrial, political, and policy event. Even years, such as 2014, are smaller years for the Messe, because the Wind Energy and Motion, Drive and Automation sub-shows are not held. Even so, there were approximately 5,000 exhibitors and 180,000 attendees over the five days of the Messe, with over 100 countries represented. Ninety-three per cent of the attendees were business visitors. The primary language was German, but English was a close second.
57% of visitors were from the EU, 20% were from Asia
The fair next year is April 13-17, 2015
The Major Categories included in the Messe are Energy, Industrial Automation, MobilTec, Digital Factory, Research & Technology, Industrial GreenTec, Industrial Supply
There were fifteen exhibit halls in 2014
Eighty percent of the participants were male; very engineering focused
Total exhibition grounds: 27 buildings, 5.3 million square feet, the largest exhibition ground in the world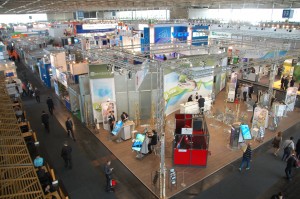 This is a show that is both technical and industry focused. While national and state economic development agencies are present, their role is primarily to facilitate industrial participation.
Theme of the Show:  Each year, the show highlights a partner country and a technical theme. This year, the Messe's theme was "Integrated Industry – Next Steps." The Messe highlighted technologies enabling intelligent, self-organizing factories. The partner country this year was Holland. The Messe was opened on Sunday, April 6, by German Chancellor Angela Merkel and Dutch Prime Minister Mark Rutte.
Major Topic of the Show:  A major focus of Hanover Messe is energy. Approximately one-third of the exhibit space at Hanover Messe is devoted to energy and related topics, so although it doesn't promote itself as such, Hanover Messe is one of the largest energy shows in the world. Germany's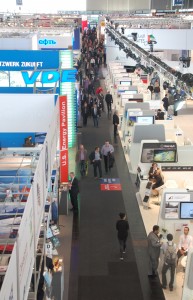 energy transition, from fossil fuels and nuclear power to renewable, non-nuclear sources, and the transformation of energy systems, to robust networks connecting distributed generation sources, is a major topic and a major business opportunity for Washington. Every podium speaker at the Messe opening mentioned the German energy transition. This transition is accelerating with recent events in Ukraine. Germany's energy transition enjoys broad public and political support. It's worth noting, for instance, that Germany is home to half the installed solar photovoltaic generation capacity in the world.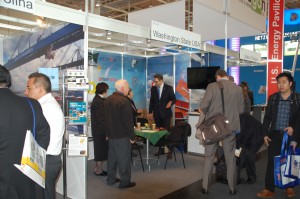 Overview of Washington Participation:  This was the third consecutive year that a delegation of Washington companies organized by the Washington State Department of Commerce has participated in the show and taken booth space. The Washington State stand was located in the US Energy Pavilion. Six Washington companies and organizations participated in the delegation this year. Hanover Fairs USA again provided extraordinary support for Washington State.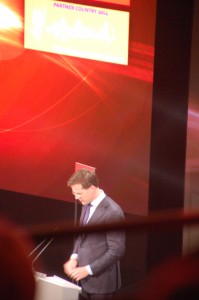 Hanover Fairs Partnership with WCTA:  Hanover Fairs USA management, in recognizing its "extraordinary" partnership with Washington state, are sending two managers to participate in the Washington Clean Tech Alliance inaugural showcase event June 23rd. Sometime around that event they will host a session publicizing Hanover Messe 2015. They will also be available for meetings with Commerce and clients on June 24.  HFUSA is in talks with WCTA to sponsor the showcase event.
2014 Participants:
Alstom Grid, Redmond
Breedt Tooling, Kent
National Center for Materials Technology Education, Edmonds
Oscilla Power, Seattle
PowerIt Solutions, Seattle

"This is a picture of the small town, Celle, where we stayed. It was an hour train ride away from Hanover–and every hotel room was booked."  –Tom Ranken

Washington Clean Tech Alliance, Seattle