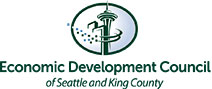 Suzanne Dale Estey chosen to help expand and diversify economy across King County
SEATTLE (May 12, 2014) – David Allen, the Board of Directors Chair of the Economic Development Council of Seattle and King County (EDC) announced today that after a thorough search process, the Executive Committee of the EDC has offered the position of permanent President & Chief Executive Officer to Suzanne Dale Estey and she has accepted. Suzanne has been serving as Interim CEO for several weeks, and prior to that served as Director of Strategic Initiatives, a consultant, active member, and Board Member for the EDC. She has over twenty-one years of experience delivering results in intergovernmental relations/public policy and over seven years of successful direct experience in local economic development.
"Suzanne has proven to be an outstanding professional and leader of our organization and we are excited she has agreed to help lead our team. Her significant economic development and intergovernmental experience, extensive professional network, strategic coalition building and project management skills, as well as her strong work ethic, will help shape and strengthen the EDC in our important work," said Terry Danysh, EDC Board Vice Chair and Chair of the CEO Hiring Committee.
"Suzanne shares our interests and passion for continuing to retain and grow jobs and economic vitality across King County with the EDC's unique client-based, cluster-driven approach. Suzanne understands the mechanics, challenges, and opportunities of economic development at the ground level. She's been a local, regional, and state leader in economic development and has gotten things done at almost every level of government as well as the private and non-profit sectors," said David Allen, EDC Board Chair, "Our work has never been more important. With the EDC's 43-year history, clear mission, committed staff, a strong Board, and a great new leader, we are well equipped to succeed."
"I am deeply honored to have the opportunity to help increase economic growth in the region where I grew up, have worked much of my career, and deeply love. I am eager to support the board and staff as we continue to strengthen the organization and most importantly, retain and create jobs throughout King County," said Suzanne Dale Estey.
About the Economic Development Council of Seattle and King County
The Economic Development Council of Seattle and King County (EDC) is a public-private economic development partnership which was founded in 1971 to expand and diversify the economy across King County and its 39 cities. The organization serves as the first point of contact for site selection consultants and company analysts looking to expand or relocate businesses in King County. The EDC provides one-on-one, confidential consulting services, free-of-charge, to individual businesses seeking to establish, expand or relocate to Seattle and King County.