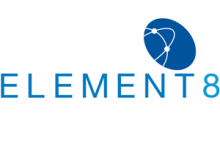 SEATTLE (June 27, 2014) – Element 8 announced its members have invested more than $3.7 million in a total of 10 clean technology companies during the first half of 2014. The half-year amount is nearly the same as the year-long total of $3.8 million in 2013. Since its founding in 2006, Element 8 members have invested more than $17.5 million in 50 companies.
"These numbers reflect our members' confidence in our existing portfolio as well as our continued enthusiasm for new technologies and companies," said Bill Lemon, co-chair of Element 8. "Element 8 continues to be the 'go-to' angel group for entrepreneurs seeking experienced, connected, knowledgeable – and passionate – funders of early stage cleantech companies."
Investments include: Adaptive Symbiotic Technologies (www.adsymtech.com), Greenbacker Group (www.greenbackercapital.com), Ibis Networks, Inc. (www.ibisnetworks.com), Perpetua Power (www.perpetuapower.com), SparkFund (www.sparkfund.co), TBF Environmental Technology (www.tbfenvironmental.com), Empower Micro Systems (www.empowermicro.com), Flux Drive, Inc. (www.fluxdrive.com), Green Canopy Homes (www.greencanopyhomes.com) and OneEnergy Renewables (www.oneenergyrenewables.com).
Element 8's investments include new geographies (Hawaii), new types of technology (stress tolerant seeds and sustainable industrial solvents) and new financing approaches (energy crowdsourcing, yieldco's). All three developments are representative of trends that led to the group rebranding itself from Northwest Energy Angels to Element 8 earlier this year. The new brand was created in recognition of the organization's broader focus beyond the Northwest and pure-play clean energy technologies.
"We seek to invest in a wide variety of companies and technologies that will accelerate the transition to a cleaner future and a better world," said Lemon.
Element 8 is made of up of close to 70 accredited angel investors from across the Pacific Northwest, themselves successful executives and entrepreneurs, who provide investment capital, contacts and strategic advice to help early-stage companies achieve market success. Members, whether seasoned investors or new angels with a desire to learn, gain access to quality deal flow and the tools for successful investing. Cooperative due diligence, a powerful business network, and relevant, timely education allow members to make individual investment decisions, and to build a unique and diverse portfolio that matches their interests and goals.