A team of UW students recentlytook second place in the EcoCAR 2 Challenge. Its modified Chevy Malibu traveled 48 miles on an electric charge before switching to its biodiesel engine—making it the most energy-efficient car in the 15-school international competition. A brilliant feat of engineering.
Behind that engineering was some savvy business support from Foster School students. Nicholas Wilson (MBA 2012), Tyler Rose (MBA 2013) and Taj Matthews (MBA 2013) served as business managers for the first stages of the three-year project. Alex Ong, a senior studying finance, took the engineering and design team through to the finalsearlier this year at General Motor's Milford Proving Ground.
The son of engineers, Ong has no formal technical training of his own. "But I'm interested in cars and I knew a few things," he says. "Enough to get the conversation going."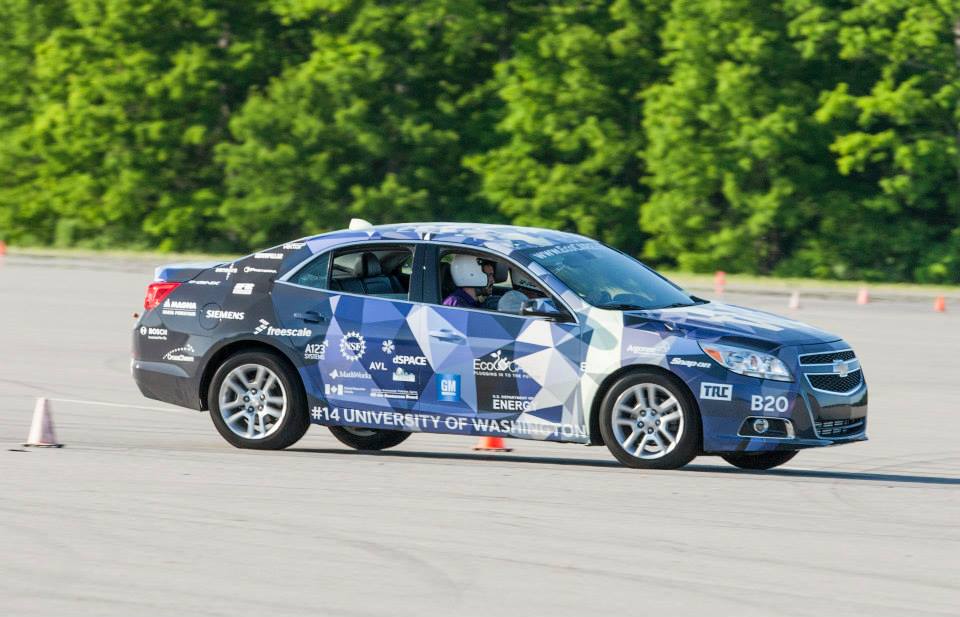 His role was to manage the project's six-figure budget, cultivate and communicate with sponsors, and provide financial reporting to funders and competition organizers—GM, the US Department of Energy, and a wide range of transportation and renewable energy firms and organizations.
In Detroit, the team finished first in eight categories, including quickest acceleration, lowest energy consumption and least greenhouse gas emissions. While his colleagues put the car through its paces, Ong presented the team's financials to a panel of judges representing the sponsor organizations.
It was a unique experience, this working collaboration of engineering, business, communications and visual arts.
"There's nothing like it at the UW," Ong says. "It was an incredible interdisciplinary learning experience where you had to work together with people who have no knowledge of your expertise and vice-versa. Otherwise, the whole project falls flat.
"That's about as real world as it gets."
The UW has been selected to compete in EcoCAR 3 beginning this fall. Ong plans to recruit fellow Foster students to better distribute the workload and formalize procedures to ensure continuity over the project's four-year run.
The team just learned that they get to play with a Camaro this time around.
Senioritis? Bah. Count Ong in.