CleanTech Alliance urges industry and members to call their legislators to maintain and support the Clean Energy Fund.
"Simply building a better mousetrap isn't going to transform the market – despite what you're told. Being the first to adopt new technologies always carries some level of risk. The Clean Energy Fund offsets some of that risk, catalyzing innovation, industry growth and economic development across Washington State. We need to support the Clean Energy Fund as that catalyst." — J. Thomas Ranken, President and CEO of the CleanTech Alliance
Support the Clean Energy Fund; Contact your state legislator today.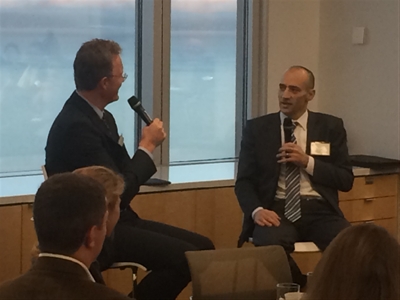 Daniel Malarkey (left) engages Brian Bonlender (right) about the Clean Energy Fund in front of a sold-out CleanTech Alliance audience.
A sold-out audience attended the January CleanTech Alliance Breakfast Series to hear Brian Bonlender, Director of the Washington State Department of Commerce, outline the Clean Energy Fund (CEF). Bonlender participated in a discussion moderated by Daniel Malarkey of 1Energy Systems before taking questions from the audience.
Sample Clean Energy Fund Projects
Bonlender and Malarkey outlined the original Clean Energy Fund program elements and projects. In 2013, the Washington State Legislature approved a $40 million capital fund to expand clean energy projects and technologies statewide. The fund provided smart grid grants, energy revolving loan fund grants and federal matching grants.
Several grant recipients were in attendance and outlined current projects and impacts. Patrick Leslie from Puget Sound Energy (PSE) outlined the company's energy storage project in Glacier, Washington. Glacier sits at the end of the transmission line, resulting in frequent energy outages. Deploying a storage system increases energy reliability by providing power during outages. The battery system is more effective and efficient than rerouting energy around downed transmission lines and also eliminates the need to build a peaking power plant near Glacier to meet growing demands.
Jessica Matlock at Snohomish Public Utility District (PUD) provided insight into its current energy storage projects. The CEF allowed Snohomish PUD to engage 1Energy Systems and UniEnergy Technologies, both Washington-based companies, to design a new type of battery architecture, called Modular Energy Storage Architecture (MESA), aimed at standardizing energy storage and lowering costs.
According to Matlock, the CEF-funded energy storage projects place Washington State utilities at the forefront of the industry. The funding allows utilities to develop innovative technology partnerships and deployment projects that serve as an example for the rest of the nation while improving Washington State energy systems in the process. The Bonneville Power Authority (BPA) and U.S. Navy have already contacted Snohomish PUD with interest in using energy storage, using the utility's early deployments with MESA as a model.
John Berdes at Craft3 shared several revolving loan grant projects focused on commercial energy retrofits, including major upgrades at three charter schools. CEF funds were used as a portion of the grants with Craft3 providing a bulk of the investment. The company plans to close more than $15 million in loans by the end of the funding period.
Shannon Ellis-Brock at Puget Sound Cooperative Credit Union (PSCCU) outlined the company's current status with energy revolving loans. PSCCU has initiated more than 500 home energy retrofit projects worth approximately $6 million to date, improving the energy efficiency, comfort and health of Washington State homes.
Landis Kannberg at the Pacific Northwest National Laboratory (PNNL) also shared two energy storage and transmission research projects that benefit from CEF funding.
Michael Carr of UniEnergy Technologies described their project with Avista in Pullman, Washington. Carr noted at closing that the CEF is all about leverage. The legislation leverages taxpayer dollars to spur private industry investment in advanced energy technologies across the state. The result stimulates innovation, sustainability and economic development while growing Washington's clean energy industry.
Clean Energy Fund II
The newly proposed Clean Energy Fund language extends the first round of funding with additional money across more categories. The rationale behind the policy is to tie sustainability with economic development for a double win in Washington State. The CleanTech Alliance supports the continuation and enhancement of the CEF and is working to provide feedback to the current administration on proposed language. A fact sheet outlining CEF key points is available for download.
CleanTech Alliance members (and the greater cleantech industry as a whole) are encouraged to contact their district's legislators via email or phone to express support for the extended Clean Energy Fund proposal. A map of legislative districts is available at http://app.leg.wa.gov/DistrictFinder/.
Members interested in participating in the CleanTech Alliance support efforts can send an email to Gabe Boeckman at gabe@cleantechalliancewa.org.