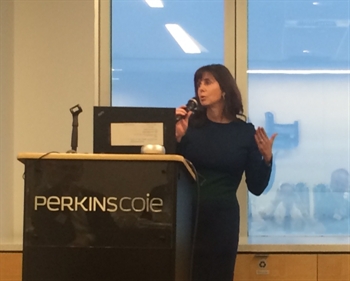 Kimberly Harris, President and CEO of Puget Sound Energy,
shares her thoughts on Our Energy Future.
What if Puget Sound Energy wasn't a utility? What if it was an energy company? Would its employees do anything differently?
Kimberly Harris asked these questions in 2011 to push her employees to think beyond the typical regulations and restrictions associated with the utility industry. Puget Sound Energy's President and CEO wants her team to focus on customer solutions to help the company transform.
Harris outlined her thoughts at the CleanTech Alliance Breakfast Series event on February 11 at Perkins Coie. The difference between a utility and an energy company may seem like a simple matter of syntax, but it's monumental for Harris. The audience agreed. Derek Eisel, director of sales at sustainability data management software company Scope 5, and many others covered the event live on Twitter, posting:
@DerekEisel: Smart talk from Kimberly Harris of PSE: think like an energy company. This isn't your grandfather's utility. @wacleantech @psetalk
According to Harris, the utilities are the last major industry to transform. That transformation is now taking place, making it a very exciting time for utilities willing to transform along with it. Those unwilling to adapt face increasing challenges down the road ranging from consumer renewables to market disrupters like Tesla. Continuing with too much arrogance and complacency makes them an easy target.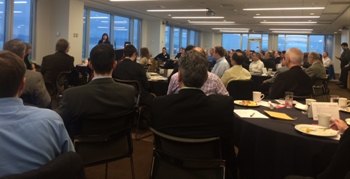 A sold out audience of energy executives attended the
breakfast event, taking part in a lengthy Q&A session.
Tesla is expanding its market from electric vehicles to utility-scale batteries thanks to the company's new manufacturing capabilities. Harris considers energy storage a game changer for the industry. She explained that it opens the discussion for so much more clean technology innovations and applications, and that utilities need to better understand how batteries can be utilized as the grid ages, demand grows and our population expands.
Several Washington State companies are also gaining ground in the energy storage market. Puget Sound Energy is partnering with these companies as part of the state's Clean Energy Fund program. These projects are important, especially in helping energy resiliency in areas facing constant outages. For example, battery storage could help Bainbridge Island residents maintain power through major storms without having to build a new substation or route new transmission lines. Battery storage could provide the power needed in a cost-effective and sustainable manner, which is why pilot programs like those enacted in the Clean Energy Fund are so important.
Storage is also important in Harris' smart grid vision. In her opinion, a truly smart grid self-heals by detecting outages and re-routing power to serve customers. Demand response and the Internet of Things are less of a priority, especially with the Pacific Northwest's low utility rates and minimal peak load differences. Energy reliability and grid resiliency is her priority for smart grid technology deployment.
The audience asked if Puget Sound Energy is getting involved in building electric vehicle charging stations and other alternative fuel infrastructure. Harris explained that utilities have been held at arm's length due to regulations. She anticipates that utilities will get more involved as electric and alternative fuel vehicle adoption expands beyond current infrastructure availability.
On the consumer front, Puget Sound Energy is currently offering customers a $500 rebate on Level 2 electric vehicle chargers, expanding technology adoption even after Recovery Act incentives have stopped. The rebates do two things for Puget Sound Energy:
First, it delivers a solution to customers that want to upgrade their personal charging infrastructure to make the most of their electric vehicles.

Second, it allows Puget Sound Energy an opportunity to study how the grid reacts to electric vehicle loads, using that information for future planning and widespread technology deployment.
Puget Sound Energy is also working with maritime companies to transition ships to liquid natural gas as part of its alternative fuels program. The result extends PSE's reach and customer base outside of their area, while helping maritime companies reduce their greenhouse gas emissions and fuel costs. It's a win all around, and another example of Puget Sound Energy thinking as an energy company instead of a traditional utility model.
Energy efficiency is another strategic initiative for Puget Sound Energy. The company is helping Renton roll out LED street lighting and Hale's Ales upgrade to a more efficient boiler system.
Harris spent more than an hour answering questions from the CleanTech Alliance audience across these and many other topics. Anyone interested in learning more can read this Q&A offered as a preview to the event.
Join us at the March 11 Breakfast Series event on Building Automation.