"The Hannover Messe is an amazing international trade show.  It is the largest that I have ever been to," says John Kane, Founder and CEO of Kane Environmental.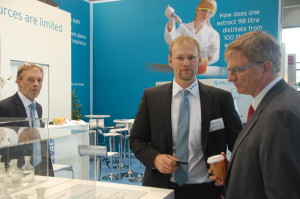 John Kane of Kane Environmental working the floor of the Hannover Messe in April 2015 
Kane Environmental is a full-service environmental and geotechnical consulting firm headquartered in Seattle with project experience through the United States.  The company provides teaming opportunities for access into the US for environmental and engineering projects.  Founded in 2000 by John Kane, a hydrologist with 28 years of experience in the environmental consulting services industry, Kane Environmental has grown into a specialized consulting firm that produces high-quality products tailored for each individual client.
Kane's professionals have a wide breadth of experience including Phase I and Phase II Environmental Site Assessments (ESA) and remedial investigations/feasibility studies (RI/FS) at commercial and industrial sites, brownfields redevelopment, environmental assessments under NEPA/SEPA, geotechnical investigations, stormwater permitting, construction oversight, hazardous materials surveys (asbestos, lead-based paint), and soil and groundwater remediation.  Kane Environmental is a small business in accordance with the SBA's small business size standard.
"The technology is beyond expectations here," says John.  "America needs to pay attention to what is going here–we are falling behind."
Kane Environmental is a member of the CleanTech Alliance Washington.