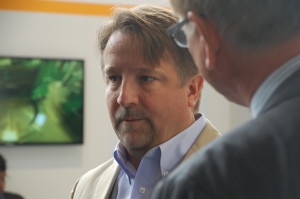 John Pierce, Perkins Coie, at the
Hannover Messe 2015
"Who knew you had to go to Hannover, Germany to see the finest in manufacturing from places like Turkey and India," says John Pierce of Perkins Coie.
Founded in 1912, Perkins Coie has more than 950 lawyers in 19 offices across the United States and Asia. We provide a full array of corporate, commercial litigation and intellectual property legal services to a broad range of clients, from FORTUNE 50 corporations to small, independent start-ups, as well as public and not-for-profit organizations. Perkins Coie's energy practice is a national practice spanning the West Coast and extending to Washington, D.C. We work in nearly every facet of the energy sector in the United States and much of the world. We help clients structure and negotiate all aspects of energy transac­tions, navigate the complex regulatory frameworks governing the energy industry and litigate issues influencing the energy sector.
"The biggest surprise," says John, "is that there aren't as many Americans as I expected…there should be–particularly next year when the US is the official partner nation."
Perkins Coie is a Gold Member of the CleanTech Alliance.