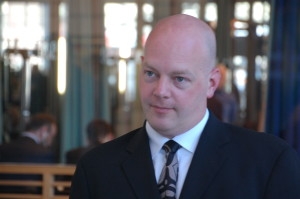 Sean Connell of Snohomish County
at the Hannover Messe 2015
Snohomish County, Washington, covering an area of 2,090 square miles within the Greater Seattle metropolitan region, provides comprehensive services and support to a vibrant community of nearly 750,000 residents and works to contribute to the economic vitality and quality of life of the region.
Snohomish County is Washington State's center for advanced manufacturing, and has the state's highest concentration of manufacturing jobs and engineers. Home to the Boeing manufacturing plant for the 747, 767, 777, 787, and soon 777X and its composite wing, Snohomish County has an unparalleled concentration of aerospace industry businesses and a world-class workforce.
Located in one of the world's leading hubs of innovation and research, Snohomish County boasts global industry leaders and innovative start-ups including in medical devices, clean tech, electronic equipment, advanced materials and recreation equipment.
Snohomish County has also emerged as a leader in revitalizing agriculture as a key industry in a rapidly-growing urban area. Home to world-renowned art studios and cultural attractions, spectacular outdoor recreation opportunities, and a strong spirit of entrepreneurship, creativity defines Snohomish County.
"The Hannover Messe," says Sean Connell, "provided a valuable platform to pursue Snohomish County's economic development goals related to clean tech, including opportunities to build connections with foreign counterparts that share a focus on this sector and to learn more about innovative technologies and applications."
To keep the economy strong and competitive, the Snohomish County Government provides streamlined planning and permitting processes, and a suite of custom services to fast-track your business needs.
Snohomish County is a Platinum Member of the CleanTech Alliance