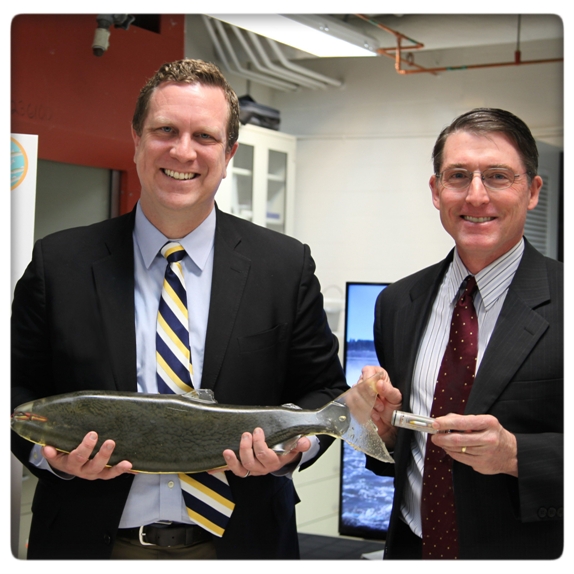 Assistant Secretary Danielson and
Dr. Virden with the PNNL Sensor Fish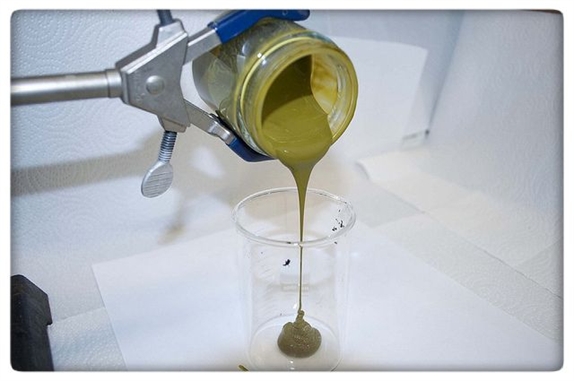 Converting Algae to Biocrude Oil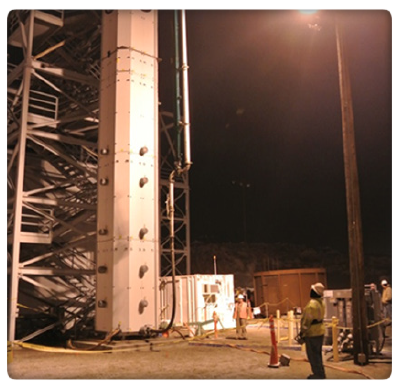 Deep Sludge Gas Retention Tower
Just 200 miles southeast of Seattle is the Pacific Northwest National Laboratory, a $1 billion research institution operated since 1965 by Battelle for the U.S. Department of Energy. PNNL employs more than 4,000 people dedicated to solving the nation's most challenging issues in earth, energy and national security.
PNNL's Energy and Environment Directorate (EED), led by Dr. Jud Virden, accounts for $234 million in annual research and employs nearly 1,000 scientists, engineers and staff on the main campus in Richland and in Seattle, Sequim, and Portland offices. The EED has five research areas: clean fossil energy, electricity infrastructure, energy efficiency and renewable energy, environmental health and remediation (including providing scientifically defensible solutions for Hanford legacy waste cleanup), and nuclear energy and science.
Dr. Virden answered a few questions as a teaser to our May 13 breakfast event. Want to learn more? Join us for breakfast with Dr. Virden on May 13 at Perkins Coie.
1. Outside of PNNL, what emerging technologies are you tracking?
We track many different technologies with an eye to "what's next." Right now I'm especially on the lookout for advanced grid technologies, new building controls technologies, energy storage, novel energy efficient technologies, biomass conversion, breakthroughs in fundamental science, advances in big data management, and nuclear energy.
2. You often travel to foreign countries for collaborative efforts. How do you see global collaboration spurring technology development and deployment?
Other countries fully understand the value of an innovation engine, from government investments in R&D to industry demonstrations and incentives. Partnership opportunities come our way because of our world-renowned expertise and reputation for collaboration. It is key that we maintain our innovation ecosystem to create high value-added jobs in Washington State and the U.S.
3. PNNL often serves a central role in coordinating Washington's research universities. What's been the most impactful result of these collaborations?
We have formed very productive partnerships with universities and industry partners throughout the Northwest. The Pacific Northwest Smart Grid Demonstration Project across five states and 11 utilities, along with engagement by regional universities, has made a real difference in grid operations. I also believe that the coordinated efforts of the University of Washington, Washington State University, and PNNL as part of the Washington State Clean Energy Fund will lead to real advances in demonstrating the concept of a transactive campus.
4. You've been with PNNL nearly 24 years. What are you most proud of?
I'm proud of my contributions to PNNL's growth and impact to the region and the nation over the last 24 years. Our work really is making a difference to the nation, especially in the energy arena. Here are a few recent examples:
PNNL is co-leading DOE's Grid Modernization Laboratory Consortium with the National Renewable Energy Laboratory in Colorado — along with 12 other national labs. PNNL power system experts are figuring out ways to make the U.S. electrical grid more reliable (to avoid blackouts) and more resilient (to recover quickly when a blackout occurs).
 
In the biomass research area, PNNL scientists developed a process that takes just 15 minutes to convert algae to biocrude oil, leaving clean, nitrogen-rich water available for re-use. This process already is being scaled-up for industrial production.
 
Our environmental management experts worked with Hanford contractors to evaluate the risk of hydrogen gas retention in the deep sludge layers in some of Hanford's tanks. We used large-scale pilot testing, setting up a 45-foot tall column, and showed that gas retention doesn't pose a flammable safety issue. The Deep Sludge Gas Release team's work enabled the continued sludge retrieval and transfer process in Hanford's double shell tanks, saving the taxpayers $500 million in new tanks.
 
Economists and engineers in our Building Energy Codes and Appliance Standards group recently completed energy conservation rules in for metal halide light fixtures, manufactured housing, commercial icemakers, and hot water heaters. PNNL's work in codes and standards are projected to save the nation $9 billion annually in energy costs by 2030. In 2014, our work helped DOE meet its commitments to the White House for the President's Climate Action Plan.
5. What one takeaway do you want Washington State leaders to know about the research facility in their back yard?
PNNL is a $1 billion research institution in Washington State supporting research and development in Earth, Energy, and National Security — with a mission to work with others to solve tough problems. At PNNL, we truly believe in our mission statement: "We transform the world through courageous discover and innovation."