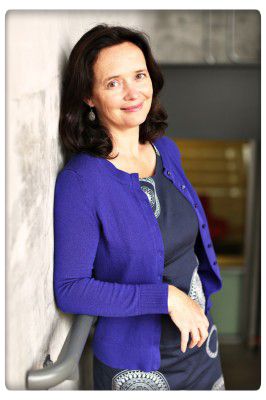 Amanda Sturgeon
CEO, International Living
Future Institute
"Instead of a world that is merely a less bad version of the one we currently have, we ask a simple and profound question – What does good look like?" Amanda Sturgeon, CEO of the International Living Future Institute opened the CleanTech Alliance January 13 breakfast session asking the audience to think bold and set very difficult goals for our built environment.
Named one of the 10 most important women in sustainability by Green Building & Design magazine, Amanda Sturgeon is the new CEO of the International Living Future Institute, replacing Jason F. McLennan who retains his position as Chairman of the Board.
Sturgeon is an award-winning architect with pioneering green building projects such as Islandwood on Bainbridge Island. She was a founding board member of the Cascadia Green Building Council and instrumental in passing the first Washington State LEED legislation in 2003. She has served on many boards and committees and has taught at the University of Washington as well as Bainbridge Graduate Institute. Sturgeon is a Fellow of the American Institute of Architects and was made a LEED Fellow in 2013 in recognition of her pioneering commitment to advancing sustainability through advocacy, policy and practice.
During her presentation, Sturgeon outlined the how living building design is helping to push how we interact with our built environment. We are the canaries in the gold mine, she explained, driving innovation as early adopters. The Bullitt Center in Seattle serves as a prime example.
The status quo questioned the goals and design principals of the Bullitt Center because they were set so high. The results speak for themselves. Today, the Bullitt Center is exceeding initial goals surrounding energy production and energy efficiency. The building now serves as a beacon for sustainable building design. More than 15,000 visitors have toured the building so far.
But, the Bullitt Center is just one building. New designs, building strategies and building materials developed for the Bullitt Center are already proving to be transformational. The International Living Future Institute has certified 32 additional living buildings and is helping more than 300 others on their path toward certification. Like the Bullitt Center, each of these projects serves as a beacon for their communities.
Building materials are one example of how living buildings are transforming the status quo. Currently, many building materials contain caustic ingredients and hazardous materials that are considered acceptable. Vinegar has been replaced with arsenic and sugar for formaldehyde. Are they needed? Probably not, and that is being demonstrated by a steep uptick in sustainable building materials being specified and incorporated into modern buildings across the globe.
Living buildings were just the first step for the International Living Future Institute. The organization quickly moved on to multi-tenant buildings, schools and universities. Schools play an important role. Introducing them to living buildings helps to educate future generations. It creates an integrated curriculum that allows students to interact with their living laboratory while installing a sense of pride for their school. Basically, the schools lead by example AND learn by example.
Communities come next. According to Sturgeon, communities are ready to start the conversation. What are the possibilities? What are the requirements? What is our goal? Starting with these questions frees up options and points communities to a true end vision. Sturgeon explained that there are multiple paths available to get there if you ask the right questions along the way. Urban re-wilding is one example. Reintroducing nature into the urban landscape delivers numerous benefits. It presents a holistic connection to experience and learn from nature.
The audience asked if the International Living Future Institute could see itself helping to meet carbon reduction goals following the Paris Climate Agreement. The organization is already fielding calls at the state and federal level, which is a good first step. The real question, according to Sturgeon, is our ultimate timeframe. Limiting ourselves to two-to-five year goals is shortsighted and limits us to design change. We could tackle true cultural change if we shift our focus to what's possible two-to-five generations out.
Interested in learning more about the January 13 breakfast with Amanda Sturgeon? Follow the #CleanTechBacon stream on Twitter.
The February 10 breakfast will feature Chris Davis, Governor Inslee's advisor on carbon markets. Davis will share his COP21 experience representing Washington State at the Paris Climate Agreement talks. COP21 brought together 195 participating nations in Paris to set a path to keep temperature rise below 2°C. The historic Paris climate agreement has been called the most ambitious climate change goal in history. It's also been called the greatest wealth generation opportunity of our time. What does that mean for Washington State? Davis will explain on February 10. Learn more…