News and Information
University of Washington
The University of Washington has joined NextFlex, a consortium of 30 academic institutions and industrial partners to develop the next generation of flexible electronic devices. As a founding member of this alliance, the UW will seek local and regional partners in the electronics and manufacturing industries to develop and produce flexible electronics for applications from medicine to transportation.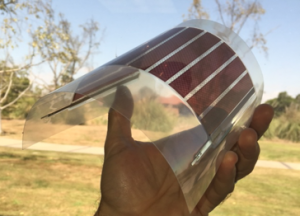 Flexible electronics are inherently thin and designed to be bent, rolled, folded or incorporated into new technologies or products in ways that traditional rigid electronics cannot.
J. Devin MacKenzie, a Washington Research Foundation Professor of Clean Energy who holds appointments in the Department of Materials Science & Engineering, the Department of Mechanical Engineering and the UW Clean Energy Institute, joined the UW in September 2015 to create new methods to produce printable and flexible electronics and energy devices for large-scale industrial applications.
"Flexible electronic systems include things like flexible sensor arrays that could detect faults in engines or electric-car battery compartments as well as on-body devices to monitor health and fitness," said MacKenzie. "Really, there's no part of the body that's flat and there's no part of the body where it's comfortable to have something rigid attached — so ultrathin and flexible devices are what we could go after."
Flexibility and durability are key characteristics that would open up new applications ranging from medical devices to industrial sensors. But developing scalable, cost-effective, sustainable methods to synthesize these devices is a major hurdle preventing large-scale implementation. That is where NextFlex funding and resources can play an important role, MacKenzie said.
Launched earlier this year, NextFlex has received $75 million in federal funding through the U.S. Air Force Research Laboratory. From its headquarters in San Jose, California, the center will accept proposals from participating universities to form collaborations with private companies to develop advanced manufacturing processes and integrated systems paralleling the UW team's goal of printed flexible electronics. Regardless of each participant's focus, NextFlex's goal, according to MacKenzie, is to fund endeavors that are close to real-world application: to bring flexible electronics into real-world applications as soon as possible.
"NextFlex is looking for projects at a high readiness level for manufacturing and industrial applications," he said. "These are things that have already shown fundamental proof-of-operating concept in the lab. But NextFlex-funded partnerships can deal with how to integrate these concepts into functional systems and to scale them up, and make it feasible and practical for manufacturing."
MacKenzie helped secure funding for the NextFlex center before joining the UW faculty, when he was with Imprint Energy, a California startup developing flexible high-energy batteries. UW researchers can now team up to apply for NextFlex grants to pursue projects in flexible electronics with local and regional industrial partners.
"I really think the UW could be a node for NextFlex here in the Pacific Northwest," said MacKenzie. "We have real potential to bring in innovative industrial partners — for example Boeing, Amazon and Microsoft. I think we can establish a critical mass and become a magnet for this new advanced manufacturing industry."
As well as making use of NextFlex's Silicon Valley infrastructure and funding, the UW and its industry partners could combine funds, personnel, time, materials and facilities, including those under development, like the Washington Clean Energy Test Bed facility expected to launch at the UW in early 2017.
"We have a great technology base here at the University of Washington and in the Puget Sound area," said MacKenzie. "This is an opportunity for us to take on new projects in flexible electronics that can be mass-produced in a sustainable manner. We can really make an impact."
For more information, contact MacKenzie at jdmacken@uw.edu.