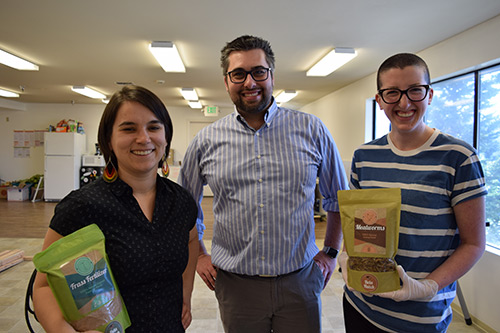 The Beta Hatch team showcases their products at the company's new SeaTac facility. From left to right; Virginia Emery, Andrew Klein, Charlie Lentz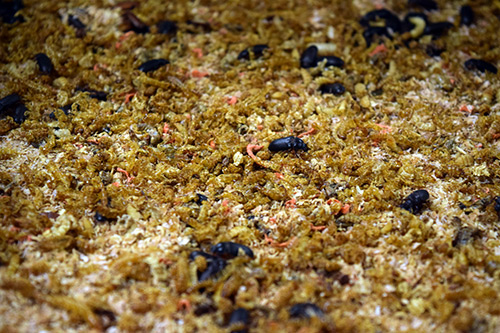 Darkling beetles and their mealworm larvae are an excellent source of protein, fat and omega 3.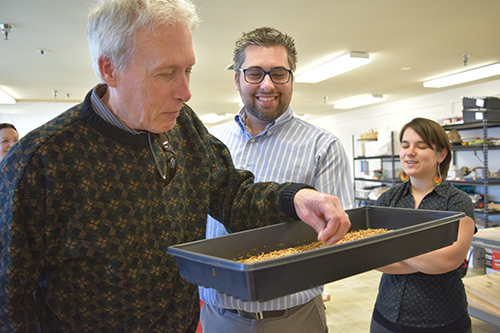 "These mealworms would go really good with red wine." Steve Klein, Chair of the CleanTech Alliance board of directors.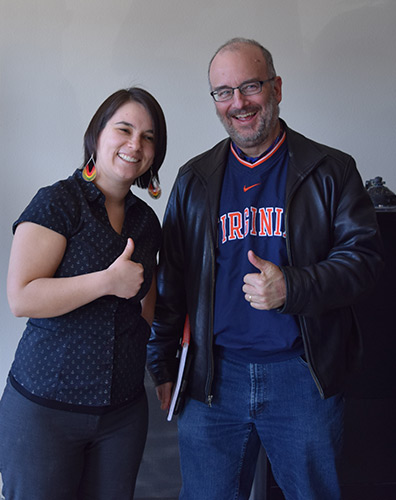 CleanTech Alliance President & CEO Tom Ranken shows his Virginia support.
The future of agriculture is tucked discretely in an industrial park outside of SeaTac, Washington. Above the auto body shop and next to a custom guitar maker, Virginia Emery is pioneering insect farming with her startup, Beta Hatch. The result may just be a cleaner, more sustainable agriculture ecosystem for the U.S. and beyond.
The CleanTech Alliance first encountered Emery and Beta Hatch as part of its accelerator program in 2015. The insect entrepreneur planned to commercialize technology and techniques to make insects the next commodity crop. Her mission…make mealworms the next corn.
Emery describes herself as Canadian born, Berkeley bred and Seattle made. A renowned scientist, she holds a PhD in entomology from the University of California at Berkeley and moved to Seattle to put her training to work.
"The highlight of my first encounter with Virginia was tasting cricket chips for the first time," says J. Thomas Ranken, President & CEO of the CleanTech Alliance. "She obviously knew a lot about what it would take to raise insects for food, but I'm not sure I realized her determination to deliver on that mission."
Beta Hatch started as an idea and quickly grew into a 150 square foot facility called the Ballard Bug Barn. The company's first target market was human-grade protein for high-end restaurants and food trucks. Emery secured interest from several local chefs, but quickly realized that human-grade insect protein is a long sales cycle fraught with ingrained negative perceptions about eating insects. Early customer discovery allowed her to pivot early to a market that was larger and closer to ready – high-end animal feed.
Emery tested various insect species before settling on darkling beetles. More specifically, Beta Hatch is rearing and harvesting mealworms, the larval stage of darkling beetles. These mealworms are perfect for high-protein livestock feed. Turtles, lizards, birds and other household pets love them, as do the backyard chickens that are becoming more and more popular.
"Mealworms and darkling beetles are perfect for insect farming," says Virginia Emery, founder of Beta Hatch. "They are an excellent source of protein and fatty acids. Another plus, they're quiet and don't fly or jump, which makes my job much, much easier."
The pivot to mealworms and high-end animal feed has been fruitful. Since officially launching Beta Hatch in October, Emery has raised $48,000 in community-sourced capital with help from Craft3, and an undisclosed amount from local angel investors. The farm moved from the Ballard Bug Barn into a 3,500 square foot industrial space outside of SeaTac. She also hired Charlie Lentz, her first full-time employee, and is working with Andrew Klein of Zccounting on finance strategy and execution.
The SeaTac facility is currently home to millions of insects, but there is an option to triple production and grow to 7,000 square feet of facility space. Emery is experimenting with rearing, housing and harvesting technologies to maximize insect density on the farm. She's also experimenting with various organic insect feed.
"Beta Hatch originated in human-grade protein, which requires very high-end feeds and rearing practices," explains Emery. "We want to maintain that high level of quality with our animal feed. That's why we only feed our insects organic vegetables and feed. It creates a much more nutritious and better tasting mealworm for your animals."
Is it working? The CleanTech Alliance team recently toured the new Beta Hatch facility and took a taste for ourselves. The verdict…
"These mealworms would go really good with red wine," shares Steve Klein, founder of Klein Tech Advisors Group and chair of the CleanTech Alliance board of directors.
Good taste, however, may not be enough. While there is customer demand for mealworm-based feed, the market is very young. There are only a handful of commercial insect farms in the U.S. Beta Hatch is the only one currently operating in Washington State.
Being this early comes with its challenges. Food and Drug Administration (FDA) approval is needed, as are state-level approvals. Beta Hatch will need 50 individual state approvals if it is going to sell online via Amazon.com or other e-commerce platforms. Unfortunately, the certification inspectors do not always know what to look for in an insect farm. Emery plans to take part in developing inspection policies and certifications to make sure Beta Hatch can grow nationally.
"Serving a national market from domestically sourced insects is very important," explains Emery. "Right now, consumers cannot get insects raised and harvested in the U.S. Almost everything is sourced from China or other overseas locations, which do not have the same standards of quality."
Demand for domestic products is clear, even with mealworms. Beta Hatch currently offers mealworms for feed and insect frass, or micro manure, for fertilizer. The company produces 400 pounds of product per month with plans to ramp up production to 1,200 pounds soon. That's just the beginning. Beta Hatch can reach 4,000 pounds per month or more if the company grows to full capacity at its current location. If all goes well, they'll need that space quickly. Emery exhibited at the Northwest Flower and Garden Show in February. The company was a hit, and orders quickly rolled in. Beta Hatch currently has a waiting list 200 deep for mealworms and frass. High-end grocery chains have also taken notice.
The future is bright for Beta Hatch. The company is positioned to be among the first to deliver domestically sourced insects for high-end feedstock. Emery is balancing research with production to optimize her operations, and is also eyeing additional funding for continued expansion and growth.
"Beta Hatch is growing rapidly," Emery explains. "That growth will continue with our efforts, but a strategic investor and true partner can take us to a new level in a condensed timeframe. Mealworms are where corn was 50 years ago. With Beta Hatch at the lead, it won't take long for the market to realize just how sustainable, nutritious and beneficial mealworms are for American animals and the American economy."
When asked what the future holds, Emery shared her vision for the next couple years. By 2018, Beta Hatch will support up to 20 employees at a 50,000 square foot facility with national distribution. Based on her extraordinary growth and success to date, the CleanTech Alliance staff wouldn't bet against her.
Want to learn more about Beta Hatch and Virginia Emery? Visit the company online at www.BetaHatch.com. Interested in taking part in CleanTech Alliance commercialization and accelerator programs? Visit www.CleanTechAlliance.org and www.CascadiaCleanTech.org.