CleanTech Achievement Award program expanded to include both organizations and individuals; CleanTech Vision Awards added for organizations and individuals.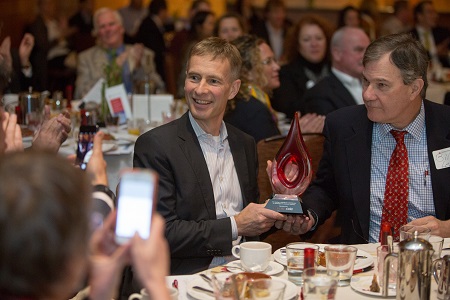 CleanTech Alliance opened the call for 2017 CleanTech Achievement Award nominations.
CleanTech Achievement Awards will now be presented to both an organization and an individual. Sponsored by Puget Sound Energy, the awards honor significant contributions to the region's cleantech industry sector. Past winners include McKinstry, Washington State University and Element 8.
There are now four ways to receive recognition! CleanTech Alliance will also present CleanTech Vision Awards in 2017 to both an organization and an individual. The new awards spotlight an organization and an individual for championing innovation that will forever change clean technology in our region, country and world.
Nominations for all four awards close Monday, October 16, at 5:00 pm PDT. Finalists will be announced in November with winners presented at the CleanTech Alliance Annual Meeting on November 8, 2017, in Seattle. The meeting will celebrate the CleanTech Alliance's 10th anniversary. Registration is now open with several sponsorship opportunities available.
"Over the past 10 years, CleanTech Alliance members have demonstrated impact and innovation that have strengthened the economy, created thousands of jobs, and benefited the environment," said J. Thomas Ranken, President and CEO of CleanTech Alliance. "The expanded CleanTech Achievement and CleanTech Vision awards highlight the breadth and diversity of these accomplishments, and allows us to recognize more of the important work happening across the Northwest region."
The CleanTech Alliance Annual Meeting and 10th Anniversary Celebration offers an ideal opportunity to network and share ideas with more than 300 of the industry's most prominent movers and shakers. In addition to the CleanTech Achievement and Vision Awards, this year's event will feature multiple keynote speakers and four town hall sessions that explore The Next 10 Years in key clean technology areas. Build your brand by sponsoring the event! Download the sponsor benefit sheet and contact Gabe Boeckman to build a sponsor benefit package to fit your marketing needs.
Since 2007, CleanTech Alliance has developed the Northwest region's cleantech economy by successfully facilitating the generation and growth of 300 member organizations and more than 87,500 direct cleantech jobs spanning five U.S. states and two Canadian provinces.