Virginia Emery

Beta Hatch
CleanTech Vision Award winners honored at CleanTech Alliance Annual Meeting & 10th Anniversary Celebration for championing innovation that will forever change the cleantech sector.
CleanTech Alliance honored Impact Bioenergy and Virginia Emery of Beta Hatch as CleanTech Vision Award winners. New in 2017, the CleanTech Vision Awards, sponsored by Seattle City Light,, honor both an organization and an individual for championing innovation that will forever change the clean technology sector. The winners were announced at the CleanTech Alliance Annual Meeting and 10th Anniversary on November 8. 
Impact Bioenergy's distributed bioenergy solutions help communities and companies dealing with food generate energy from organic waste streams. The company's prefabricated bioenergy systems and technologies allow for onsite bioenergy food waste diversion, thus substantially reducing costs and generating a faster ROI than wind or solar.
"Impact Bioenergy challenged society's food waste problem with a clean technology vision, transforming waste into valuable fertilizer and energy to fuel our communities," said J. Thomas Ranken, President & CEO of CleanTech Alliance. "The company's bio-digesters are deployed across the state to deal with food scraps, brewery waste and a system that will soon close the sustainability loop for food waste on Vashon Island."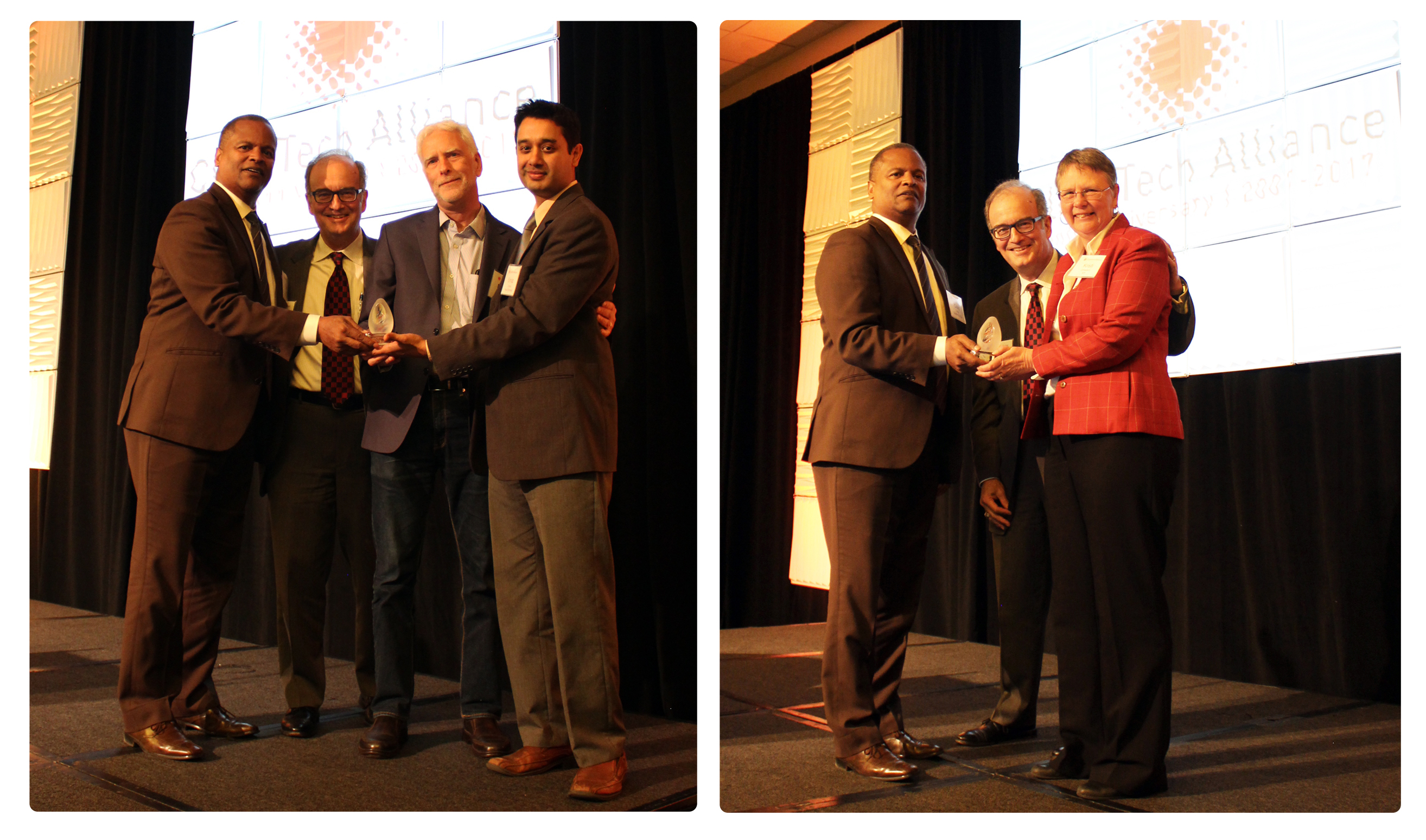 Individual Vision award winner Virginia Emery is single-handedly building an insect-as-protein industry in the Northwest region. Through her startup Beta Hatch, Virginia commercialized insects as high-protein animal food and soil products that are efficient enough to change our food systems. Insects are one of the greatest untapped resources for building more clean and robust food systems, and Virginia is one of few who have developed a viable option to make use of that resource. Kristi Growden of E8 accepted the award on Virginia's behalf in the photo above. 
"Virginia first introduced herself to the CleanTech Alliance with a vision for revolutionizing modern agriculture and how our world produces protein," Ranken said. "Despite a lot of people discounting her early vision, Virginia has grown Beta Hatch into a beacon of innovation and entrepreneurial spirit, building a model for rearing and distributing insect-based protein across the country."
Omnidian and the Washington Clean Energy Testbeds were named organization finalists for the CleanTech Vision Award alongside Impact Bioenergy. Reeves Clippard of A&R Solar and Jimmy Jia of Distributed Energy Management were named individual finalists alongside Virginia.
The CleanTech Alliance Annual Meeting and 10th Anniversary Celebration convened nearly 400 business executives, investors, media and policymakers to celebrate the CleanTech Alliance's 10th Anniversary, while looking ahead to The Next 10. Learn more about ways to engage in the CleanTech Alliance at www.cleantechalliance.org.
About the CleanTech Alliance
CleanTech Alliance represents more than 300 member companies and organizations across the Northwest region. Founded in 2007 by business leaders, the organization facilitates the generation and growth of cleantech companies, jobs, products and services to advance the cleantech economy. CleanTech Alliance offers a range of business services and benefits uniquely designed to help businesses gain visibility, access services at a lower cost and benefit from public policy. Learn more at www.CleanTechAlliance.org.
For the latest CleanTech Alliance news and updates, follow us on Facebook, Twitter and LinkedIn.