Dave Curry

Demand Energy
CleanTech Achievement Award winners honored at CleanTech Alliance Annual Meeting & 10th Anniversary Celebration for significant contributions in developing the cleantech sector.
CleanTech Alliance honored the University of Washington and Dave Curry of Demand Energy as CleanTech Achievement Award winners for 2017. The awards, sponsored by Puget Sound Energy, honor both an organization and an individual for making significant contributions to development of the cleantech industry. Winners were announced at the CleanTech Alliance Annual Meeting and 10th Anniversary.
Consistently ranked as a top global university for innovation, the University of Washington supports the region's cleantech talent pipeline, R&D base, infrastructure and connectivity to the world. Key programs that support this work are the Environmental Innovation Challenge, Clean Energy Institute, and CoMotion. In addition, the University's world class faculty and facilities attract federal R&D funding for technology commercialization to the region.
"The University of Washington's impact on our cleantech sector is both significant and vast," said J. Thomas Ranken, President & CEO of the CleanTech Alliance. "Each year, the University sparks clean technology innovation through both its research and curriculum, and then fans the flames by encouraging entrepreneurship and startup growth. The technologies and startups spinning out from the University of Washington get stronger every year, and will clearly continue to do so for years to come."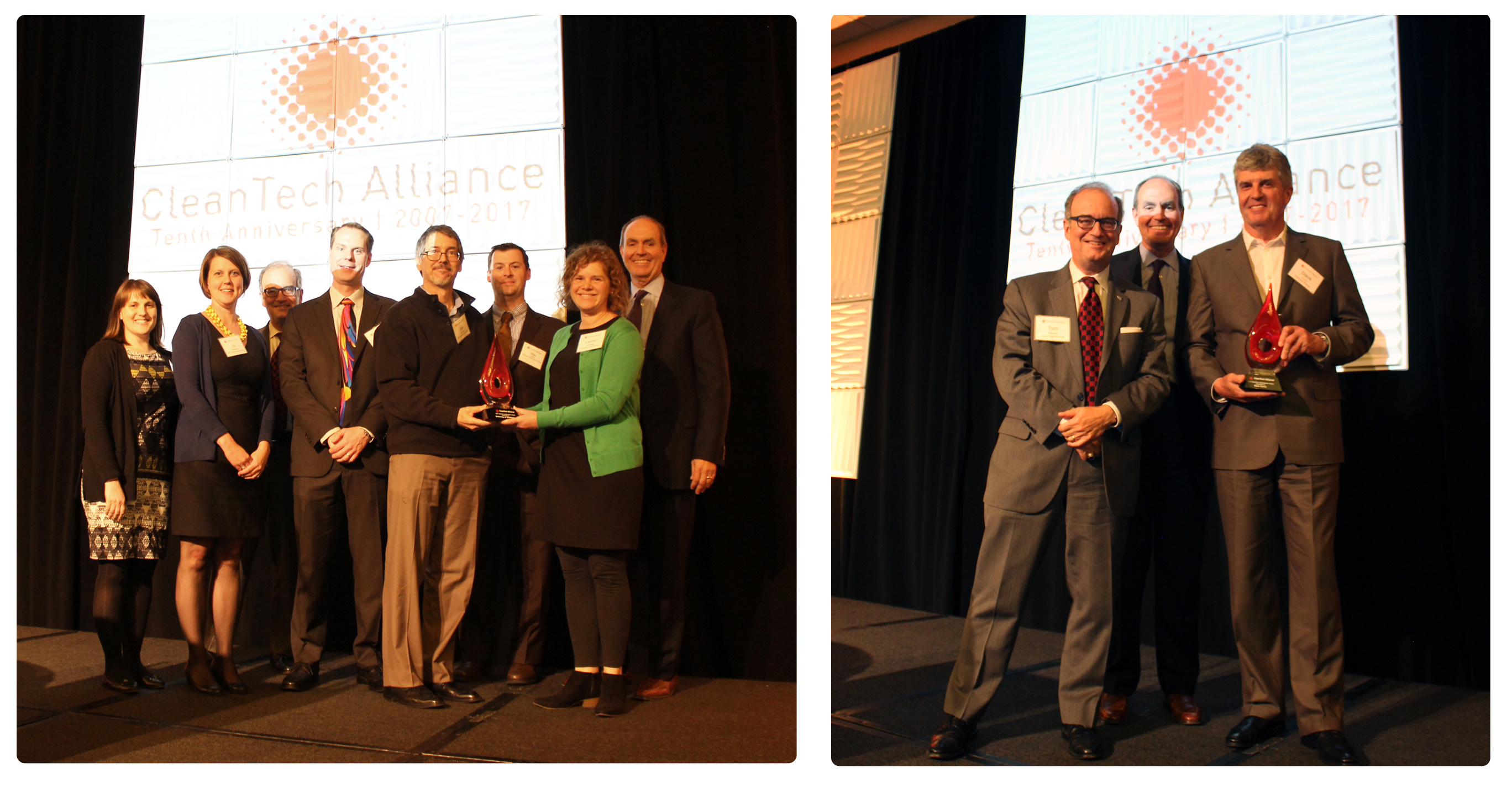 Individual Achievement award winner Dave Curry has been a leader in the Northwest cleantech sector for years. His entrepreneurial efforts have created jobs and brought focus, capital and growth to the sector. Curry founded Demand Energy in 2008, which was one of the first energy storage companies both in the region and in the energy storage industry at large. The company was purchased recently by Enel, which will make its technologies available around the world.
"Dave Curry is a big reason why the Northwest is now known as a hotbed for energy storage and grid modernization technologies," Ranken said. "In founding Demand Energy, Curry created one of the first global energy storage software companies in the Northwest. His relentless perseverance led to that company's innovative market positioning, exceptional growth and eventual exit. It's been an honor to work with Curry through the CleanTech Alliance and to award him for his cleantech achievements."
A&R Solar and EnerG2 were named organization finalists alongside the University of Washington. Past winners include Element 8 (now E8), Washington State University and McKinstry. The CleanTech Achievement Award for individuals is new in 2017. David Allen of McKinstry and Tony Usibelli of the Washington State Department of Commerce were named individual finalists alongside Curry.
The CleanTech Alliance Annual Meeting & 10th Anniversary Celebration convened nearly 400 business executives, investors, media and policymakers to celebrate the CleanTech Alliance's 10th Anniversary while looking ahead to The Next 10. Learn more about ways to engage in the CleanTech Alliance at www.cleantechalliance.org.
About the CleanTech Alliance
CleanTech Alliance represents more than 300 member companies and organizations across the Northwest region. Founded in 2007 by business leaders, the organization facilitates the generation and growth of cleantech companies, jobs, products and services to advance the cleantech economy. CleanTech Alliance offers a range of business services and benefits uniquely designed to help businesses gain visibility, access services at a lower cost and benefit from public policy. Learn more at www.CleanTechAlliance.org.
For the latest CleanTech Alliance news and updates, follow us on Facebook, Twitter and LinkedIn.