When the CleanTech Alliance launched in 2007, it convened 35 charter organizations to define the clean technology sector for Washington State. Ten years later, the Alliance's membership represents the regional nature of the sector – which requires developing technologies, processes, businesses across geographies and areas of expertise. The CleanTech Alliance's Annual Meeting and 10th Anniversary celebration highlighted that new reach, as well as current and emerging trends in the sector.
The Canadian Connection
Opening remarks from Brandon Lee, Consul General of Canada in Seattle, demonstrated right away CleanTech Alliance's collaboration across geographic boundaries. Canada has long been a leader in climate action, and the current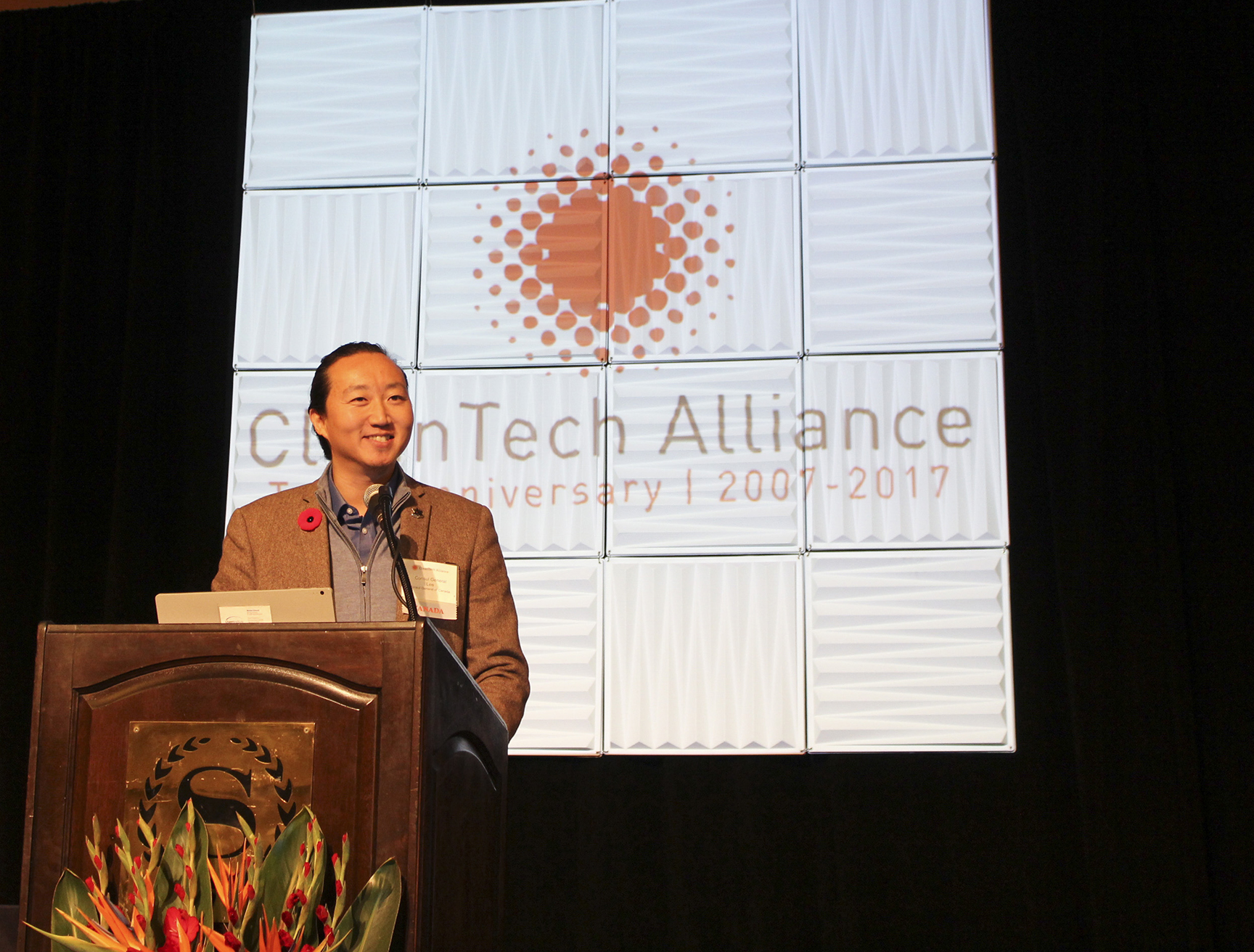 administration is integrating trade and business development more deeply into the country's efforts to follow expectations laid out by the Paris Climate Agreement.
A large part of those efforts includes expanding already strong relationship with the U.S. – Canada's number one trade partner.
"The Canada-U.S. trade partnerships is a model for the world," said Brandon Lee, Consul General of Canada. "It has benefits on both sides."
Consulate General of Canada in Seattle (which serves Washington, Oregon, Idaho and Alaska) is an active member of the CleanTech Alliance. For the first time last year the CleanTech Innovation Showcase featured a Canadian Pavilion of cleantech businesses. In 2018, the CleanTech Alliance will take a delegation of members to GLOBE Forum, an international cleantech conference held in Vancouver, for the 10th year.
Keep an eye out for Q&A's with the other keynote speakers in the coming weeks! 
Not Just for Puget Sound – CleanTech in the Inland Northwest
While Puget Sound can dominate discussions about sustainability and cleantech innovation, inland northwest cities and towns are also demanding and driving change for a greener future. During the Future of Transportation town hall session, Governor Inslee's Chief Policy Advisor Charles Knutson discussed the Greenlot charging stations to be installed across Eastern Washington as part of the state's efforts to electrify.
"We hosted an EV conversation in Wenatchee to a full audience excited about the opportunities," Knutson said. "When electricity is less than 4 cents per kilowatt, EVs just make sense."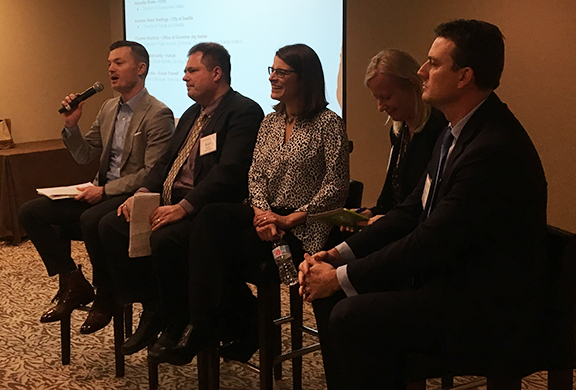 The state's EV pilot program also expands the West Coast Green Highway initiative that promotes use of cleaner fuels along freeways from British Columbia to Baja, Calif. Forth, a Portland-based organization focused on advancing electric, is a key partner on these projects. The company's director of government affairs, Jeanette Shaw, also participated in the Future of Transportation discussion moderated by Uber's Adam Gromis. Uber is also partnering with Forth on efforts to expand use of and education about EVs throughout the region.
During the Future of Cities town hall session, Spokane Mayor David Condon highlighted Urbanova – a smart city pilot project and partnership between Spokane, Avista, Itron, McKinstry, and Washington State University. Together they are developing and testing technologies that can improve services and infrastructure for citizens, as well as take on urban challenges such as energy and water usage, traffic and waste.
Energy Enters the Sharing Economy
Technology development over the past decade resulted in more affordable renewable sources of energy. In this decade and those to come, the focus is on improving storage and distribution of those renewable sources, and all forms of energy.
"Electricity must be consumed when it is generated," said Curt Kirkeby of Avista during the Future of Energy town hall. "That is a challenge for solar which has peak generation when we already have too much energy. Storage solves that challenge, making batteries a key enabler for distributed solar growth."
The northwest is home to UniEnergy Technologies and utilities that are dedicated to developing and testing batteries powerful enough to store energy from intermittent sources for use at different demand times. Better storage needs a more connected power grid – which regional utilities, universities and companies are working on as well (for instance – this transactive campus project).
"These technologies will allow us to create a shared energy economy – think Uber for electricity," Kirkeby said.
Help Wanted: Skilled Workers for New Technologies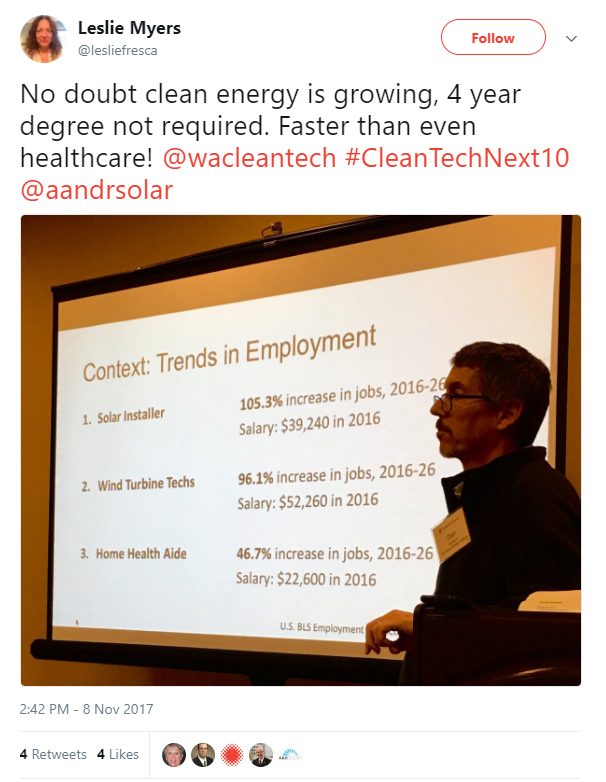 While cleantech jobs have grown in the region and nation, an industry with new technologies requires workers with new skillsets.
"We've had jobs we simply cannot staff," said Reeves Clippard of A&R Solar. "It is difficult to keep developing a company quickly when you don't have enough staff on hand to execute." Clippard spoke on the Future of Energy town hall session.
Local universities and community colleges are working to prepare students with these skills. The session's moderator, Daniel Schwartz, leads the Clean Energy Institute at the University of Washington, which aims to prepare college students for these careers.  The technical skills firms are looking for do not all require a four-year degree, however, so training options outside of the university setting are also in development – including a technician training center in Richland.
Preparing for Future Water Scarcity
Alyssa Moir of K&L Gates, helps answers questions such as – "given current water trends, will this vineyard have enough to water its grapes?" In her view, talking about climate change from the water scarcity angle might inspire more action.
"It is a large part of the overall issue and we all understand we need water – it makes the issue more tangible and immediate."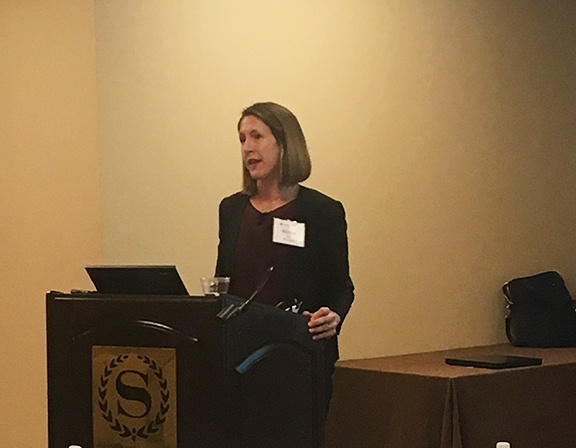 Though the U.S. has more water than many countries, several states are already experiencing water stress and the severity is projected to increase in the years to come. Planning for this future requires developing and updating policies related to water rights, and taking water use into consideration when inviting potentially water-intensive economic development opportunities and other activities.
"Nevada is projected to have a lot of water issues in the future due in part to the technology companies that want to manufacture water-intensive products there," Moir said. "States and cities will need to find a way to encourage economic development but protect access to water – especially in climates where it is already scarce."
Recognizing People and Organizations Taking Action
While more work is needed to protect natural resources and shift behaviors for a greener future, several organizations and individuals deserve recognition for the work they are already doing to make change. CleanTech Alliance contributed to that recognition by announcing CleanTech Achievement and CleanTech Vision Award winners. In honor of the 10th Anniversary, long-time board member Maggie Brown was recognized with a special Chairman's Award.
Over the next few weeks keep an eye out for posts to learn more about the winners, and lessons learned from the keynote speakers.