The growing impact of Washington's cleantech sector was evident during the 2018 CleanTech Day in Olympia.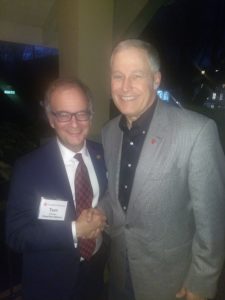 "The people in this room are critical to a clean energy future," said Governor Jay Inslee. "The rate of cleantech job creation in Washington is twice the rate of the rest of the economy. I expect to keep hearing about your achievements."
Governor Inslee attended our end-of-day reception at the Boeing House to voice his support for the work of CleanTech Alliance members and their supporters. This year, 85 constituents joined us to hold 40 meetings with legislators and their staff. Representative Jeff Morris joined the morning Board Meeting to emphasize the value of the cleantech industry having a presence in Olympia. For the first time, the day also included a roundtable discussion on carbon pricing made up of panelists from a range of backgrounds.
If you were not able to attend, a few highlights are captured below. We hope to see you next year!
Representative Jeff Morris Joins Board Meeting
Representative Jeff Morris of the 40th district is heavily involved in policy issues related to energy, critical infrastructure and commercialization. With a background in clean energy and as an entrepreneur himself, he understands and is an advocate for the policy changes needed to welcome new grid technologies and energy sources into the market.
"It is important for CleanTech Alliance member companies to be in Olympia explaining the potential impact of their work," Morris said. "It is a technical space that not many legislators have an expertise in, so your voices are critical to building understanding."
He encouraged companies and organizations to invite legislators to see their technologies outside of session – telling the story of how they will make life better for constituents while keeping energy prices low.
"If you can help us understand the value outside of session and give us access to experts who can advise on best practices, that helps with the decision-making process during short legislative sessions," Morris said.
Carbon Pricing Round Table
Given Governor Inslee's latest bill that would introduce a carbon tax, our CleanTech Day in Olympia included a round table session on carbon pricing in general. Moderated by entrepreneur Jimmy Jia, the panel included Vlad Gutman-Britten of Climate Solutions, Steve Klein of Klein Tech Advisors, Chris McCabe of Northwest Pulp and Paper, Lauren McCoy of the Office of the Governor and Todd Myers of the Center for the Environment in the Washington Policy Council.
McCloy, who is the senior energy policy advisor to the Governor, kicked off the discussion by laying out the two key developments that paved the way for a carbon tax bill this session.
There is more interest from the business community to support this policy option than there was in the past.
The revenue-generating nature of the proposed policy make it more appealing as well. A tax both drives behavior change and raises funds which can be reinvested into the new technologies and processes needed for a clean energy future.
"From the utility perspective, a tax appears more direct and straightforward than a simple cap and trade," said Klein, who is the CEO of Klein Tech Advisors and former SnoPUD CEO. Klein is also the outgoing CleanTech Alliance board chair.
While the carbon tax option – which is currently in Senate committees– will make a significant step towards addressing climate change, it is not a silver bullet.
"Climate change reduction will require a suite of incentives and policy changes," said Gutman-Britten, Washington State Director of Climate Solutions. "Additional policies that help transition away from carbon fuels help a carbon tax from rising too high over time."
Incentives for energy storage technology is a key example of additional policies needed according to Klein. The need for better data gathering and analysis to provide instantaneous information on the benefits of different technologies was also cited during the discussion. If legislators can see the benefits of new approaches right away, supporting the needed policy changes becomes easier.
In closing, the panel emphasized the on-going work needed even if the carbon bill passes. At that point it will be imperative to develop strategy and tactics that will ensure the revenues are distributed efficiently. McCoy mentioned that CleanTech Alliance members are valuable partners in identifying ideas.