Source: Manola Secaira, Crosscut, October 11, 2018.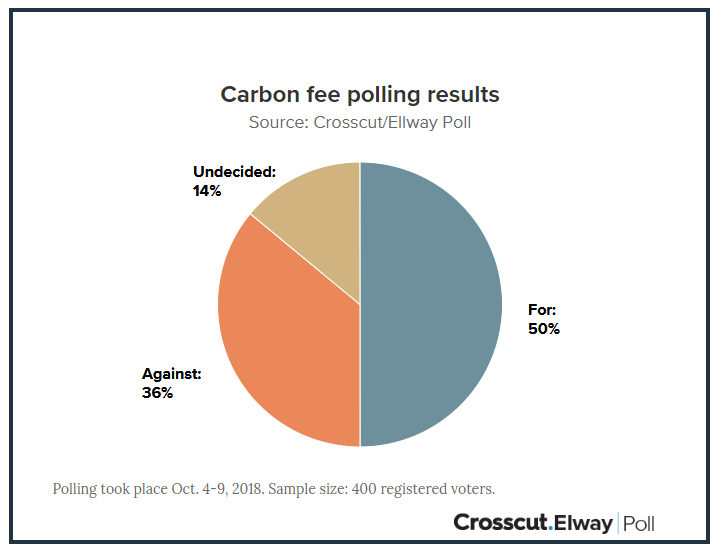 Washington voters have long grappled with the idea of taxing carbon polluters. But new data indicates that support may have finally reached a tipping point: A recent statewide Crosscut/Elway Poll shows that Initiative 1631, which would 
charge a fee to some Washington carbon emitters
, could succeed where past efforts have failed.
The poll, which was conducted from Oct. 5-9, found 50 percent approval among the 400 registered voters polled. Thirty-six percent said that they were against the initiative, while 14 percent were undecided. The poll has a margin of error of 5 points.
Support for the initiative is greater than what I-732, a similar carbon initiative, was receiving at this point two years ago. Unlike the current carbon fee initiative, that 2016 ballot measure had been criticized by many left-leaning groups and communities of color, managing only 40 percent support in that October's Elway poll. In the run-up to the 2016 election, Stuart Elway, the president of Elway Research, told the Seattle Times that any measure polling with less than 50 percent in October is likely to fail. He was right: The measure ended up receiving 41 percent of the vote with all ballots counted.
Read the full story here.
The Crosscut/Elway Poll:  Crosscut has partnered with Stuart Elway, who has been providing independent, non-partisan analysis of public opinion in Washington and the Northwest since 1992. The Elway Poll is rated as one of the top 6 election pollsters in the United States, with an "A+" grade from fivethirtyeight.com. The complete results of the Crosscut/Elway Poll will be made available on Monday, Oct. 15.