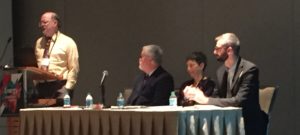 Our Policy track started on a positive note with Reeves Clippard, Nancy Hirsh, and Representative Jeff Morris discussing ways we can continue to build political support for clean energy and attract more green start-ups. The Northwest is a clean energy leader for a reason, and our region must continue to lead the way not only politically, but also technologically.  Moderator:  Tony Usibelli, Washington Department of Commerce.  Speakers:  Reeves Clippard, A&R Solar, Nancy Hirsh, Northwest Energy Coalition, Jeff Morris, Washington State Representative.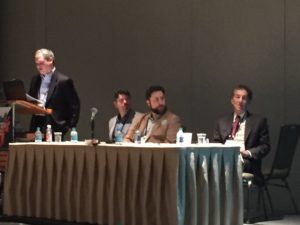 In the most heated panel of the day, Vladimir Gutman, Jason Kuzma and Professor Clifford Mass debated the merits Washington's I-1631, the carbon pricing initiative. I-1631 is groundbreaking, and a milestone in the fight against climate change, but the lack of a concrete spending plan, absence of funds for scientific investment, and oversight issues has given some voters pause. Is I-1631 the first victory in a long war to reduce climate change, or will its flaws scare other states away from enacting similar plans? A truly exciting debate from two sides with same goal but different approaches. Moderator:  Endre Szalay, K&L Gates LLP.  Speakers:  Vladimir Gutman, Climate Solutions, Jason Kuzma, Perkins Coie LLP, Cliff Mass, University of Washington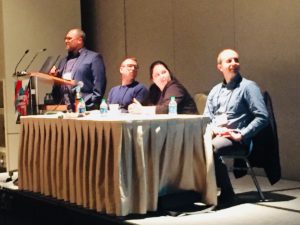 The last Policy panel featured Joshua Berger, Ashish Kumar and Andrea Pratt sung the praises of electrification in Europe, the Northwest and other parts of the US. From private vehicles to ferries, mass transit, freight, aviation and more, electrification is coming, and our region is taking bold steps to promote this greener way of life. Moderator:  Michael Breish, Washington Dept. of Commerce.  Speakers:  Joshua Berger, Washington Department of Commerce, Ashish Kumar, Zunum Aero, Andrea Pratt, City of Seattle.
Now that you're all got up on the policy panels that took place at the 2018 Energy Leadership Summit, why not check our business or innovation tracks, or the rest of the summit?