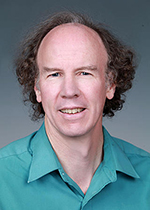 Steven Ghan, a climate researcher at Pacific Northwest National Laboratory for more than 25 years, has been elected to the newest class of Fellows of the American Geophysical Union. The honor of Fellow is given to AGU members who have made exceptional scientific contributions and gained prominence in their respective fields of Earth and space sciences.
Ghan will be recognized with the other new Fellows on Wednesday, December 12, during the 2018 AGU Fall Meeting in Washington, D.C. No more than 0.01 percent of AGU's total membership—currently around 61,000 globally—receive the Fellow's honor each year. This year's 61 new members come from 21 different countries.
"I feel honored to share this recognition with so many scientists I have looked up to during my career," said Ghan.
The mission of AGU is to promote discovery in Earth and space science for the benefit of humanity. According to AGU President Eric Davidson, the body of work by AGU Fellows "pushes the limits of human knowledge by helping to understand better the complex world and universe around us and to build the knowledge base for a more sustainable future."