2021 Bluetech/Cleantech Innovation Cohort Recap
The NW Innovation Resource Center partnered with CleanTech Alliance and WA Maritime Blue to put on a cohort for bluetech/cleantech innovators and early stage startups in northwest Washington. These innovators were able to get validation for their ideas and opportunities to focus on how to achieve success.
The cohort ran for 10 weeks with each week going over a different topic and guided by an expert/mentor.
Week 1: Gearing Up for Success – How to start researching your idea.
Week 2: Innovation for Entrepreneurs – How to start validating your idea.
Week 3: Design Thinking for Entrepreneurs – Using design thinking to validate your idea.
Week 4: Build Your Business Model Canvas – Discuss initial validation.
Week 5: IP Basics – IP strategy from a cleantech entrepreneur perspective.
Week 6: Market strategy – Marketing a bluetech/cleantech startup amid climate change
Week 7: Financials – Financials for investment and operations value.
Week 8: Presentation Materials – Essentials for your ppt accompanying documents.
Week 9: Communication Skills for Business – Connect authentically with your listener.
Week 10: Presentation to Panel of Experts – Receive feedback for each participant's company and business from industry and investor experts.
At the end of the 10 weeks each particpant had the opportunity to present their business ideas to a panel of experts from Maritime, CleanTech and Investment Communities.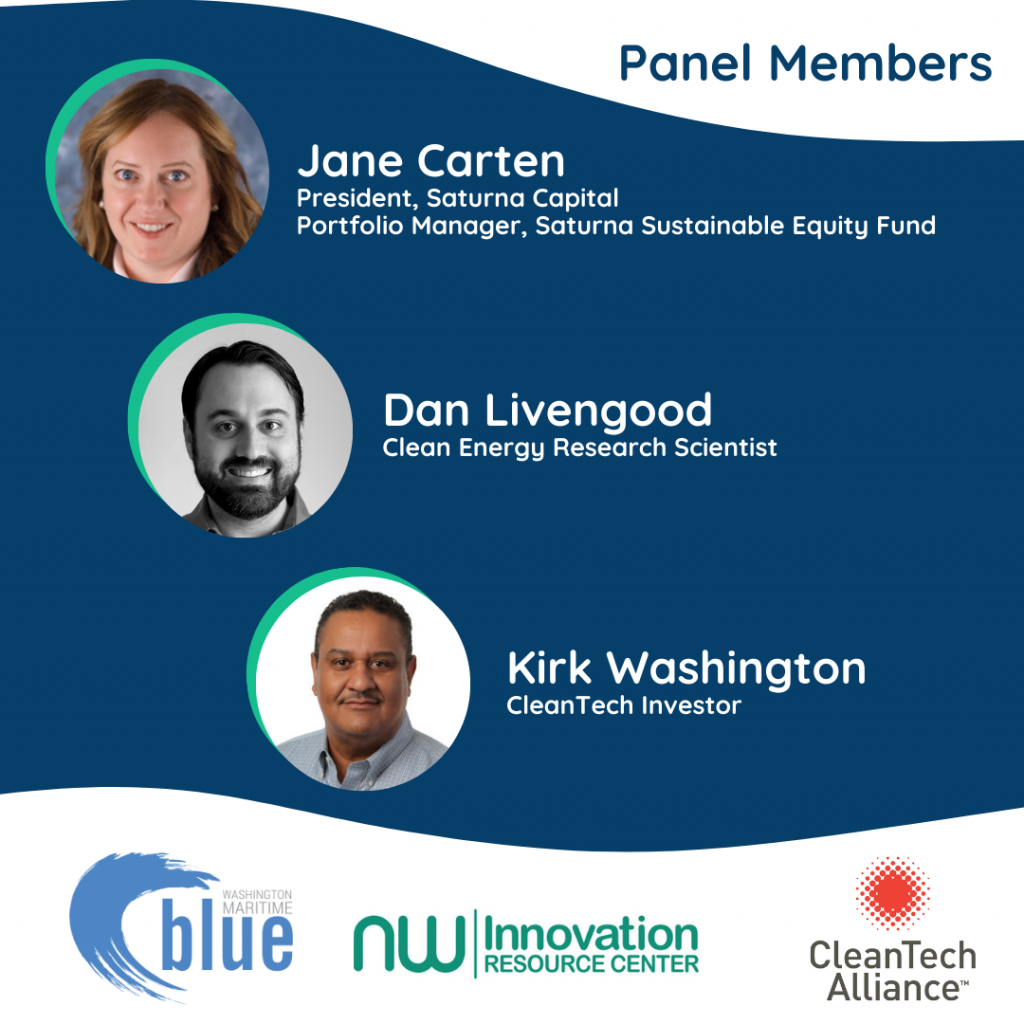 The companies who participated in the cohort:
Greensome Farms – "We raise money by helping our customers grow their income. We provide the knowledge, contacts, skill acquisition and accountability our customers need to grow their income; a one-stop-shop for income growth. We do this on a subscription basis."
Horizon Seafood – "Our product is a domesticated seaweed that extracts carbon from seawater and will be used as a moisture retention material for live and fresh foods, our product will fully decompose or can be consumed not adding to landfills."
Meliorem, Inc. – "Meliorem, Inc. is focused on clean power generation utilizing waste biomass, advanced energy storage, and carbon capture technologies"
Roger Kubalek – "I'm building a semi-autonomous electric utility vehicle designed for market gardening and small
acreages/homesteads. This platform is able to be paired with off-the-shelf tools and attachments as well custom purpose-built solutions, becoming the "Swiss army knife" for landscaping and market farming."
Firefly SUP Drives, LLC – "Firefly SUP Drives builds state-of-the-art electric propulsion systems for stand up paddleboards (SUP). Firefly's success will advance and support electrification in the recreational boating industry."
Odysseus Technologies, Inc. – "Odysseus Technologies, Inc. (OT) is the first company that can succeed with its radically innovative, patented Trekang process to produce ultra-pure carbon nanotubes (CNTs)."