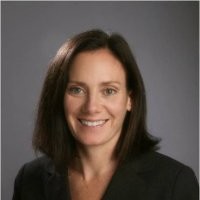 Susan Champlain is director of Government Operations for Boeing Commercial Airplanes. She leads the Northwest State & Local Government Operations team, managing relationships with elected officials and business leaders in Washington, Oregon, Montana, Idaho and Hawaii.

Previously, Susan held a series of positions within Boeing including policy and state and local government relations roles where she developed company positions on public policy and represented the company in Olympia, Wash. She joined Boeing in 1999 as manager of Legislative Affairs in Washington DC, lobbying Members of Congress on international trade issues.

Prior to joining Boeing, Susan worked for six years as a legislative aide on Capitol Hill focusing on international trade and defense policy.
Susan holds a BA in International Studies from University of Washington and a MA in International Affairs from The George Washington University.