By Tom Ranken, Washington Clean Technology Alliance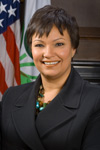 Hours after the President's State of the Union Address, EPA Administrator Lisa Jackson came to Seattle to talk about the economy, cleantech, and the environment.
Since being named President Obama's cabinet member in charge of environmental protection, EPA Administrator Lisa P. Jackson leads federal efforts to protect the environment.  She and a staff of more than 18,000 professionals work to develop the nation's green economy, address health threats from pollution in our air, water, and land, and renew the public's trust in the EPA.  Jackson is a summa cum laude graduate of Tulane and earned a master's degree in chemical engineering from Princeton.  She started with the EPA as a staff-level scientist in 1987 and has spent the majority of her career working in in New York.  In 2002, Jackson joined the New Jersey Department of Environmental Protection and was appointed Commissioner of the agency in 2006.  Jackson lives in Washington D.C. with her husband, Kenny, and two sons, Marcus and Brian.
In Seattle, Jackson toured EnerG2, a Seattle-based battery technology company, and spoke at a town hall meeting at the University of Washington.
In between those public meetings, Jackson met with a small group of leaders interested in the environment and the development of cleantech businesses at the University of Washington.  Acting as hosts were EPA Regional Administrator Dennis McLerran, Seattle Mayor Mike McGinn, and executives from the University of Washington.  WCTA Board members David Allen (McKinstry), Anson Fatland (Washington State University), Linden Rhoads (University of Washington Center for Commercialization) were present, as was I.  Other WCTA members represented included Puget Sound Energy and Stoel Rives.  The session opened with brief remarks from the Administrator, followed by short comments from each of the participants about issues of concern, then open discussion.
Jackson emphasized the Administration's commitment to rebuilding the nation's economy and protecting the environment.  She discussed the President's emphasis on equity, "fair share" wealth distribution, and assisting the middle class.  She reiterated that the Recovery Act  had created or saved 3.2 million jobs and helped create companies like EnerG2.  She noted that imported oil had decreased and the importance of manufacturing to the US economy, which needs to be nimble enough to support the technologies of the future.  She reiterated the Administration's support for higher education.
Seattle area leaders emphasized the need to support technology development, entrepreneurs, and commercialization in order to grow companies, products and services, and new jobs.  Environmental regulation that is stable adds to investor confidence and encourages private investment.  Jackson was urged to find ways to reward efforts that go above the norm, and not just focus on regulating violations of policy.  Several participants voiced support for more funding for cleantech business development—though all in the room understood the budget pressures in the federal government.
I was able to add brief comments emphasizing:
Early Capital:  Entrepreneurs in all sectors, including cleantech, have enormous difficulty raising early stage capital.  Without new companies that have the funds to pay workers, new job development.  This is particularly true in the current economy.
Stimulus Funding:  Many of our companies have benefited from stimulus funding that greatly increased their sales.  They now are facing cutbacks as these revenues are being eliminated.  It is likely that some jobs will be eliminated if these revenues are not replaced.
Science-based Decision Making:  The environment and energy are enormously complex fields, particularly in their systemic interactions.  The EPA should continue to be mindful of this and adjust quickly as new science generates new discoveries.  When new discoveries suggest new business and job opportunities, regulatory nimbleness may be the difference in economic success.
Administrator Jackson emphasized that regulation can created new business markets.  While she said that the EPA would not regulate sustainability, she encouraged incorporating sustainability into business operations.  The Holy Grail, she said, will be when we begin to think about the life cycle of products from initial development all the way to disposal.
More information:  Ross MacFarlane, Sr. Advisor, Business Partnerships, Climate Solutions, Jackson Doubles Down on Clean Energy, January 27, 2012 | Gary Chittim, KING 5 News, EPA chief comes to Seattle, vows job growth, January 25, 2012.