July 31 | at the Washington State Housing Finance Commission, 1000 Second Avenue, Suite 2800, Seattle.
Panelists:

John Gardner, Vice President and Dean, Bainbridge Graduate Institute, Moderator, and WCTA Board Member.  John has been a key leader in the growth of BGI over the past two years. Prior, he was VP at WSU responsible for leveraging WSU's assets for economic growth and vitality of the state. He filled a similar role at Missouri as VP for Research and Economic Development. In all, he has been a student, faculty member, or administrator at five land grant universities. Gardner is a native of the Kansas City area and earned degrees in agriculture and agronomy at Kansas State and a PhD at Nebraska in plant physiology. Though most of his career has been in the US Great Plains, his graduate work in both institutions was supported by US-AID in the sorghum/millet program INTSORMIL directed at Africa and India. While at the Missouri, his international research and development efforts focused on East Asia. He spent twenty years in ND, much of it as Director of the NDSU Carrington Research Extension Center. His work on the domestication of new crops led to business interests throughout the 1990s. He was one of the founders and chief executive of AgGrow Oils, a 540 member LLC that integrated the production, processing, and marketing of both novel and designer oilseeds.
Dr. Shulin Chen is a Professor of Biological Systems Engineering and the leader of the Bioprocessing and Bioproduct Engineering Laboratory (BBEL) at Washington State University (WSU). He received his PhD in Biological and Environmental Engineering from Cornell University in 1991. Dr. Chen's research interest is in industrial biosystems engineering applications to bioenergy and bioproducts. He directs initiatives advancing science and technology on nature-inspired lignocellulosic biomass processing, microbial production of biochemicals and biofuels, nutraceutical and bioseparation, anaerobic digestion processes, and multi-scale modeling of biorefineries. Dr. Chen has published more than 210 refereed journal papers, contributed to 13 invited book chapters, and is a co-authored 30 patent applications. A number of Dr. Chen's technologies are in the process being commercialized.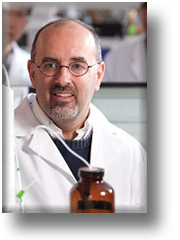 Craig Frear, Ph.D., is an Assistant Research Professor at Washington State University in the Center for Sustaining Agriculture and Natural Resources and the Department of Biological Systems Engineering. Craig's research focus in on development of anaerobic digestion and nutrient recovery systems associated with the treatment of organic wastes, particular animal manures and municipal solid wastes. Other research interests involve the development of biological and chemical technologies for production of high value products from organic wastes, including isolation of organic acids, lipids and polyphenolic nutraceuticals. In his role at CSANR, Craig also provides a large fraction of his time towards biofuels and bioenergy extension, working closely with government agencies and industries to help further development of renewable energy projects and implementation of a bio-economy. Prior to attaining this position and his PhD in Engineering Science, Craig was a high school science educator, administrator and coach for over 15 years.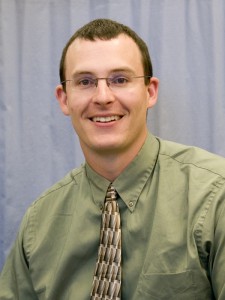 Jacob Leachman is an Assistant Professor in the School of Mechanical and Materials Engineering at Washington State University. He initiated the HYdrogen Properties for Energy Research laboratory at WSU in 2010 with the mission to maximize the utility of hydrogen in energy applications. He received a B.S. degree in Mechanical Engineering from Idaho in 2005 and a M.S. degree in 2007. His Master's Thesis has been adopted as the foundation for hydrogen fueling standards and custody exchange, in addition to winning the Western Association of Graduate Schools Distinguished Thesis Award for 2008. He completed his Ph.D. in the Cryogenic Engineering Laboratory at Wisconsin-Madison in 2010 on the visco-plastic flow of hydrogenic materials for the fueling of fusion energy machines. He has conducted guest research in the Physical and Chemical Properties of Fluids Group at the National Institute of Standards and Technology (NIST), and the Pellet Fueling of Fusion Plasmas Group at Oak Ridge National Laboratory.
Comments: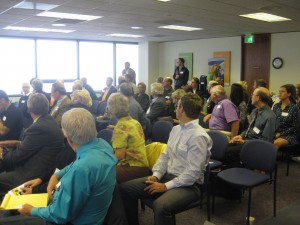 Dr. Chen discussed nutraceuticals as co-products from biofuel development.  This is a major part of aviation fuel research effort due to its importance in maximizing the value chain.  Nutraceuticals are good candidates as co-products because of their high price.  For example, microalgae that produce lipid for biofuel can also produce astaxanthin, lutein, and poly-unsaturated fatty acids as high-value nutraceuticals.  There is a great potential of synergy between biofuel-driven nutraceutical production and the food processing industry in the region as these nutraceuticals can be incorporated into conventional foods to make new food products.  The talk summarized BBEL's research and development efforts on nutraceutical production related to biofuels and commercialization potential.  Find Dr. Chen's presentation here.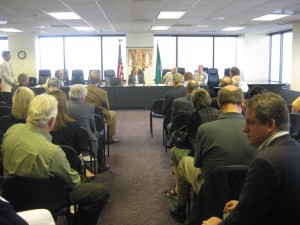 Dr. Frear discussed a new technology that can substantially reduce the pollutants entering the environment from farm wastes.  Manures and organic wastes are often high in phosphorus content resulting in high loads of phosphorus in fields and streams.  Existing technologies are quite costly or not sufficient for waste streams with high solids content.  Washington State University has developed a system which simultaneously removes both ammonia-N in the form of air stripping and ammonia salt production and phosphorus in the form of phosphorus containing solids.  The process has potential for reducing ammonia-N and total-P by as much as 60 and 80% from manures and 50 and 70% from food/green waste.  The process has been proven at pilot and now commercial demonstration scales, with process improvements in performance and cost still underway.  Find Dr. Frear's presentation here.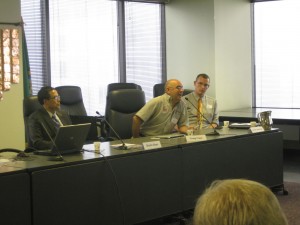 Dr. Leachman discussed "The Coming Paradigm of Sustainable Autonomous Agriculture and the Hydrogen Fueled Farm of the Future."  The Haber-Bosch process for the production of ammonia fertilizer ensures hydrogen will remain a key element to agriculture.  New opportunities for hydrogen technologies are emerging.  For example, a team of four Washington State University students designed a facility that produces hydrogen and biochar from wheat straw biomass.  This hydrogen could fuel local municipalities, locally produce fertilizer, or fuel the coming fleet of autonomous agriculture equipment.  Autonomous Unmanned Aerial Systems (UAS) in particular have significant potential to change agriculture.  A team of WSU students has successfully test flown a small UAS capable of flight approaching entire days with hydrogen fuel.  This UAS could be paired with imaging technology that can provide crop data including vegetation mass, water content, mineral deficiencies, and even pest damage.  This is only the beginning; rapidly refuelable hydrogen powered UAS swarms can use machine learning to work fields.  Local production of fuel, fertilizer, and autonomous crop imaging and manipulation are all possible in the hydrogen-fueled farm of the future.  There is potential for data to be derived from these technologies at the individual plant level.  Find Dr. Leachman's presentation here.  Here is a link (and another) to the videos of the flight of the UAS.