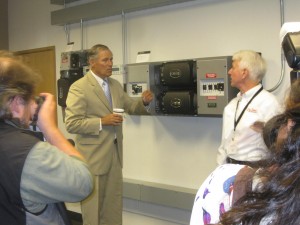 Outback Power has opened a brand new, expanded facility in Arlington, WA.  In addition to dignitaries from the company and its parent, Alpha Group, Washington Governor Jay Inslee toured the new facility.
Outback Power designs and makes renewable energy electronics.  It has 70 employees that were referred to as "highly skilled, green collar" jobs.  The company is now located on premises of 75,000 square feet—nearly a threefold increase from their prior facility.
Governor Inslee called the event "hugely exciting."  He referred to Arlington as one of the two most exciting areas in the US—the other being Williamsport, PA, where the Little League World Series is being played (with a team from Washington).  He said that there is no greater growth potential than that of Outback Power and that "Arlington can be the Middle East of power someday."  Prior to cutting the opening ribbon, he said that "This is the coolest thing that I have got to do as Governor in some time."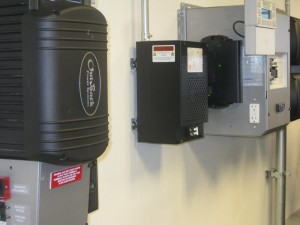 Alexandria Mayor Barb Tolbert called the event "a day of celebration."  She called the event "a success story on multiple levels" and expressed amazement at the transformation of the facility in "record time."
Alpha Group Chair, Fred Kaiser, talked about the company's efforts to make the world a better place through the creation of stakeholder value.  He noted that power outages had increased by 40 percent in the past ten years and forecast that Outback will be a prime source of growth for the Alpha Group.
OutBack Power is a privately held company headquartered in Arlington, WA, and is the leading designer and manufacturer of advanced power electronics for renewable energy, backup power, marine and mobile applications. The company is also a member of The Alpha Group — a global alliance of independent companies that share a common philosophy: create world-class powering solutions for communication, commercial, industrial and renewable energy markets.  Nearly a quarter of Alpha's global workforce of 2,000 is located in Washington State.