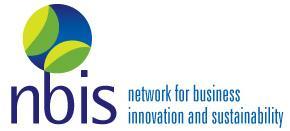 SEATTLE, Wash. – October 3 , 2013 – The Network for Business Innovation (NBIS) and Accenture present a breakfast symposium to discuss collaboration strategies designed to help cities reach sustainability goals of the 2030 Challenge and extend the 2030 District concept throughout the Puget Sound region.
The 2030 Challenge, a program of Architecture 2030, asks the global architecture and building community to adopt rigorous standards and goals for reducing their carbon footprint, fossil fuel and resource use by 2030. In Seattle, the 2030 District has accepted this challenge and is implementing strategies and public-private partnerships to achieve the goals. The project is a working model that other cities and regions can use to reduce emissions and impacts.
Raising the Infrastructure IQ of the Puget Sound Region will convene professionals in business, government, NGOs and other engaged citizens in action-oriented discussion focusing on innovative approaches for developing smart buildings, intelligent cities and resilient infrastructure for the region. Infrastructure and management technologies, performance measurement and zero waste strategies are included in the discussions.
Plenary speakers — Darrell Smith, Microsoft, Steve Tiell, Accenture and Richard Conlin, Seattle City Council — will address topics of Smart Buildings, Intelligent Cities and Public Policies and Innovative Partnerships. Interactive "Huddle" sessions will engage participants in discussion of strategies and technologies. The event focuses on accelerating a regional approach to the reduction of carbon and resource use from the built environment as well as broadening participants' tool-chest of strategies and linking individual actions to the goals of the 2030 Challenge.
Event Overview:  Program Details<http://nbis.org/wp-content/uploads/2013/09/2030-Challenge-Invitation-9-10-2013.pdf>
Breakfast Symposium
October 8, 2013, 7:30 – 10:30 AM
Bertha Knight Landes Room, Seattle City Hall, 600 4th Avenue, Seattle
Registration<http://nbis.org/george-bandy-jr-vp-sustainability-for-global-accounts-at-interface-inc/>: $35 www.raising2030iq.eventbrite.com<http://www.raising2030iq.eventbrite.com>
Plenary Speakers/Topics:
·         Smart Buildings: Darrell Smith, Microsoft
·         Intelligent Cities: Steven Tiell, Accenture
·         Public Policies and Innovative Partnerships: Richard Conlin, City of Seattle
Huddle Topics & Speakers
} Huddle 1: Smart Buildings. Moderator: Kreg Schmidt, Accenture
} Huddle 2: Building Resilient Communities through Sustainability Planning.
Moderator: Amanda Sturgeon, International Living Future Institute
} Huddle 3: Engagement Strategies for Behavior Impact. Moderators: Richard Gelb, King County; Karl Ostrom, NBIS; Corey Weathers, Catalyst 2030
} Huddle 4: Intelligent Services for Cities.  Moderator: Steve Tiell, Accenture
} Huddle 5: Multi-stakeholder approaches to achieving zero waste.
Moderators: Councilmember Richard Conlin, City of Seattle; Mary Rose, Co-Executive Director, NBIS & By-Product Synergy NW
NBIS: Network for Business Innovation & Sustainability
This year, NBIS celebrates a decade of activity focused on developing sustainable business leadership in the Northwest. By-Product Synergy NW, our flagship regional project, engages companies in developing waste reduction through materials exchange opportunities and materials recovery and reuse roundtables. The project also has launched the Materials Innovation Exchange<http://www.materialsinnovationexchange.com/> — an online marketplace for materials. NBIS programs bridge industries and sectors to engage businesses in addressing crucial regional and global issues through innovative business practices.
Accenture
As a global leader in corporate sustainability, Accenture applies our insights and deep experience to help clients within four major areas. These include Strategy, Operational Excellence, Intelligent Infrastructure (including cities) and Energy and Resource Optimization. We help organizations use resources more productively, reduce environmental impact and create transformative innovations to drive high performance.
The Seattle 2030 District
Formed in 2010, the 2030 District is an interdisciplinary public-private collaborative working to create a groundbreaking high-performance building district in downtown Seattle. With the Architecture 2030 Challenge for Planning providing our performance goals, we seek to develop realistic, measurable, and innovative strategies to assist district property owners, managers, and tenants in meeting aggressive goals that reduce environmental impacts of facility construction and operations. The 2030 District will provide members a roadmap to own, manage, and develop high performance buildings by leveraging existing market resources and by creating new tools and partnerships to overcome current market barriers.
The International Living Future Institute
As a hub for visionary programs, we administer the Living Building ChallengeTM, the built environment's most rigorous and ambitious performance standard. We are the parent organization for Cascadia Green Building Council, a chapter of both the United States and Canada Green Building Councils that serves Alaska, British Columbia, Washington and Oregon.
We believe that a compelling vision for the future is a fundamental requirement for reconciling humanity's relationship with the natural world. Rather than advocating for incremental improvements to the built environment and the industries that interact with it, we define the desired outcome for the movement we serve: the cultivation of restorative ecosystems in which thriving communities benefit the biosphere as a whole.
City of Seattle's High Performance Buildings Pilot
The High-Performance Buildings Pilot Project is a new smart buildings partnership between the City of Seattle, Microsoft and the Seattle 2030 District aimed at reducing power consumption through real-time data analysis of Seattle buildings. This pilot program will use information technology to analyze the performance of buildings in real-time, allowing building owners to drive energy efficiency into existing buildings, without costly retrofits and without disrupting tenants.