By Calvin Quek, Head of Sustainable Finance at Greenpeace East Asia
For the last decade, conventional wisdom has been that Asia has an insatiable appetite for thermal coal, making new coal export terminals on the west coast a viable long-term investment. However, recent changes in the global coal market are quickly eroding the economic case for these projects, not to mention the serious environmental, public health, and climate impacts.
At the heart of these changes is China. Since 2007, China has driven nearly 100% of global coal demand growth.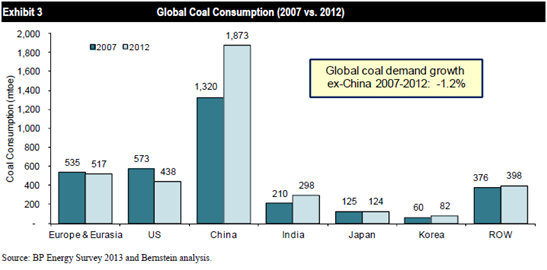 A large increase in demand for imported coal from China caused global coal prices to surge in mid 2009. However, it now appears that market has peaked and is on the decline. China's coal appetite is cooling, and with it the entire Pacific seaborne market
Or, as analysts at the brokerage firm Bernstein put it, "Globally, Chinese demand growth has been the primary driver or the backstop behind every new investment in coal mining over the last decade. The "global coal market" ended with the collapse in price in 2012."
Indeed, China's coal caps, falling energy intensity, and falling investment in heavy industry have led influential market commentators to suggest that coal's best days are behind, particularly for coal exporting companies.
In a report published on June 24, Goldman Sachs said that coal-export terminals were a bad investment, as thermal coal demand growth would likely curtail.